Orville the duck entertainer Keith Harris laid to rest in Blackpool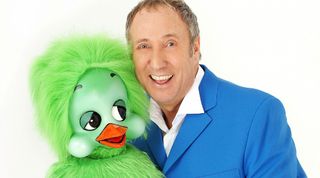 Family, friends and fans have paid tribute to ventriloquist Keith Harris, who was remembered at his funeral as 'a truly, thoroughly decent man'.
The popular children's entertainer took centre stage at the service rather than his puppet duck, Orville, who brought him fame in the 1980s.
At the height of his popularity, he was a regular on Saturday night television and put on private performances at the third birthday parties of Prince William and his brother Harry at the request of Princess Diana.
Keith Harris's funeral has taken place (Peter Byrne/PA)
His 1982 single Orville's Song was a top five hit and sold more than 400,000 copies, while his other popular puppet was Cuddles the monkey whose catchphrase was "I Hate That Duck!"
Among those attending today's service at Sacred Heart RC Church in the centre of Blackpool was his fourth wife, Sarah, whom he met 19 years ago, and his three children.
Harris's agent Robert Kelly told mourners: "Keith told me recently that he had four lives – before famous, when famous, a short and dreadful period after he was famous and the period from when he met Sarah.
"Most people would know Keith as the star, but he was the most kindest, generous, most loving friend you could ever wish for."
A touching tribute from the Nolans (Peter Byrne/PA)
Many had been "touched" with the recent media coverage of his death and the obituaries that followed which were testament to a man who had been off television screens for so long, he said.
He said the entertainer's legacy would be his wife and their two children, daughter, Kitty 'a wonderful singer and dancer' and son Shenton, 'a wonderful drummer'.
Mr Kelly said Harris would be remembered as 'a truly, thoroughly decent man'.
Keith Harris and Orville (PA)
Paying written tribute to the 'lover of life' in the order of service, his wife, Sarah, said: "Keith was the most beautiful person I've ever known.
"He was honest, kind and a true gentleman with good old-fashioned values and he always made me laugh.
Matt Lucas paid tribute with flowers (Peter Byrne/PA)
"He worked his way up to the very top, his passion for the business drove him to be the star that he became – it didn't happen overnight, but through hard work and dedication.
"Keith always believed that anyone could achieve whatever they wanted to – as he always finished his song, 'you can do anything if you believe'. That sums up Keith's pure faith and unflinching belief that anything was possible and that's how he lived life."
Attending the service were entertainment contemporaries, Nolan Sisters Maureen and Denise, Freddie 'Parrot Face' Davies, Jimmy Cricket and Bobby Crush.
Comedian Jimmy Cricket at the service (Peter Byrne/PA)
Recent Celebrity Big Brother contestant and former Coronation Street actor Ken Morley was also among mourners.
In a floral tribute, Crush, who wrote Orville's Song, wrote: "Remembering the laughs, the shows, the hit record we had together. You were a master of your craft."
Similar tributes came from Little Britain star Matt Lucas who wrote: "Thinking of you and your family", while the Nolan family wrote: "Some people need no memorial but a world made better by their lives. For Keith, a great pro, fantastic talent, a lovely man who will sorely missed. It was a pleasure to have known and worked with you."
Fan Joanna Wild, 37, who has a tattoo of Orville on her arm, was among members of the public who waited outside the church to pay their respects. She said: "I just love Orville. I am going to get 'Rest In Peace' now because Keith has gone so Orville goes too.
A fan shows off her Orville tattoo (Peter Byrne/PA)
"I have grown up with Orville who was a big part of my childhood. I didn't like Cuddles though."
Harris, of Poulton-le-Fylde, Lancashire, was first diagnosed with cancer in 2013 and became ill again in January.
He died, aged 67, in hospital in Blackpool on April 28.
His family asked that donations in his memory be made to the Blue Skies Hospital Fund to support the Haematology Endowment Fund at Blackpool Victoria Hospital.
Get the latest updates, reviews and unmissable series to watch and more!
Thank you for signing up to Whattowatch. You will receive a verification email shortly.
There was a problem. Please refresh the page and try again.