Paul O'Grady pays tribute to his 'great friend' and 'fellow hellraiser' Cilla Black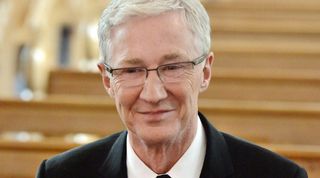 'Ta-ra girl, I'll see you on the highway' – comedian Paul O'Grady said, thanking Cilla Black for all the good times they shared as he said goodbye to the much-loved singer and TV presenter at her funeral.
Thousands of fans and mourners packed the streets outside St Mary's Church in the Woolton suburb of Liverpool and celebrities including Sir Tom Jones, Sir Cliff Richard and Lord Lloyd-Webber joined Cilla's friends and family to remember a young woman who found fame in the halcyon days of British pop in the 1960s and went on to become one of the nation's favourite TV presenters.
Christopher Biggins and Paul O'Grady (Ray Tang/Rex/PA)
But while the shock of her sudden death on August 1 at the age of 72 left many still raw, Paul had guests in tears of laughter as he regaled them with stories of the capers they got up to during their decades-long friendship.
He told the congregation: "It is so right that she has come home today, because she was a true daughter of London, I mean Liverpool – sorry Cilla – and Scottie Road was never far away…
"She was a great friend. She was full of fun. She was a wonderful woman. She was talented. She was so witty. She adored family. She loved her sons. She loved her grandchildren. She was so proud that she came from Scottie Road."
There was chuckles as he said: "I am just so grateful that she allowed me into her whirlwind of a life and we spent nearly two decades together hellraising – if you pardon the expression."
Carol Vorderman and Lorraine Chase (Ray Tang/Rex/PA)
Paul had them in tears of laughter when he regaled them with a tale of how he broke his nose in a jacuzzi while they holidayed in Barbados and she accompanied him to hospital, he with a bag of sprouts pressed to his face and she with a denim skirt on and nursing a cold, rushing back and forth to the toilet after taking a water tablet.
"We looked like something out of Shameless," he recalled.
Finishing his tribute to her, Paul said: "I loved her dearly. She was just such a great friend. I do not know what I am going to do really – the light went off a couple of weeks ago and it has not gone back on yet. I am just going to miss her so much.
"Cilla, I would just like to say 'thanks for all the fun, thanks for all the laughs – ta-ra girl, I will see you on life's highway'."
Get the latest updates, reviews and unmissable series to watch and more!
Thank you for signing up to Whattowatch. You will receive a verification email shortly.
There was a problem. Please refresh the page and try again.