Pete's Peek | Bullets, blood and babes - the 1970s Euro thriller Super Bitch on DVD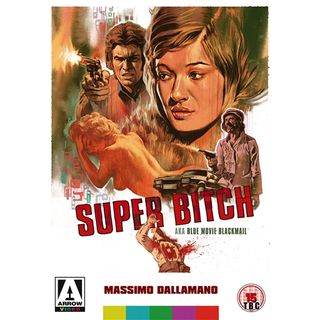 The story This 1970s crime thriller revolves around a high-class London escort agency that acts as a cover for a drug smuggling ring. Ivan Rassimov plays the duplicitous undercover cop Insp. Cliff, who falls for Stephanie Beacham's call girl while plotting to get his hands on a fortune by setting some drug gangs against each other.
The lowdown This rarely-seen Euro-trash number has been unearthed by those fine purveyors of cinematic obscurities, Arrow Video. Now, it might not be a classic of the Italian police thriller genre, but it has made me revisit the films of Massimo Dallamano, who cut his teeth as Sergio Leone's cinematographer before lensing a handful of cult treasures, like What Have You Done to Solange? and, my favourite, Dorian Gray.
So who's the Super Bitch? You'd think with Stephanie Beacham's form that she'd be the super bitch of the title - after all she did square up to Joan Collins (in oversized shoulder pads) in the 1980s soap Dynasty and its spin-off The Colbys, and just recently got her claws out as a supermarket manager from hell in the Sky1 comedy Trollied. But Beacham plays a damsel in distress here, and spends most of her screen time peeling off 1970s attire. The real bitch tag here belongs to Patricia Hayes' ruthless Mama the Turk, the head of a family of murderous hippies who have the odd habit of serenading their victims while putting the boot in.
The upshot Not only is this a chance to catch cult director Massimo Dallamano's unique style in action, there's also a classic Ford Capri ripping up the streets of west London, Riz Ortolani's funky soundtrack and some great action sequences set in Beirut's Roman ruins to savour. And did I mention Stephanie Beacham baring all?
Released on DVD, through Arrow Video
http://www.youtube.com/watch?v=0-58ED27pKw&fs=1
Get the latest updates, reviews and unmissable series to watch and more!
Thank you for signing up to Whattowatch. You will receive a verification email shortly.
There was a problem. Please refresh the page and try again.