Pete's Peek | Fall in love again with Marlene Dietrich's 1930 classic The Blue Angel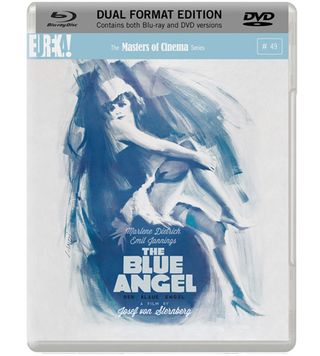 THE STORY In Weimar, Germany (opens in new tab), a dour and unlikeable high school professor, Immanuel Rath (Emil Jannings (opens in new tab)), visits the infamous The Blue Angel cabaret, where he falls for the free-spirited singer, Lola-Lola (Marlene Dietrich). Though she has little affection for the rotund fifty-something, Lola accepts the professor's marriage proposal. But when he joins her travelling stage show, Lola soon tires of him and turns to humiliating the poor man and forcing him into performing as a clown on stage…
THE LOWDOWN Remember that classic song 'Falling in Love Again (opens in new tab)'? Well, this is where it originated. It also made the unknown Marlene Dietrich (opens in new tab) an international star (she went to Hollywood following the film's release in 1930), and gave cinema some of its most iconic imagery (especially Dietrich in stockings, top hat, high heels and garter belt – a look that also inspired the Sally Bowles character in the musical, Cabaret).
With Günther Rittau (opens in new tab)'s luminous monochrome cinematography and Dietrich and Jannings' captivating performances all masterfully directed by Josef von Sternberg (opens in new tab), this is a classic tale of love and obsession that stands the test of time. It is also one of saddest films I have ever experienced. Professor Rath (opens in new tab) might not be the most sympathetic of characters, but no man deserves the kind of treatment that Lola dishes out. Watching the brilliant Jannings being reduced to a stooge by Dietrich's sensual songbird is devastating.
THE DISC The Masters of Cinema Series (opens in new tab) Dual Format (Blu-ray and DVD) release contains both the German and English language versions (though the German is preferable, especially as Dietrich had yet to develop her iconic breathy accent here). The special features include Dietrich's original screen test and some musical performances.
http://youtube.com/v/A1HaEQ6CZII
Available from: Amazon (opens in new tab) (opens in new tab) (opens in new tab)The Hut (opens in new tab) Movie Mail (opens in new tab) (opens in new tab)
Get the latest updates, reviews and unmissable series to watch and more!
Thank you for signing up to Whattowatch. You will receive a verification email shortly.
There was a problem. Please refresh the page and try again.