Phillip Schofield reveals what we should and shouldn't buy this Christmas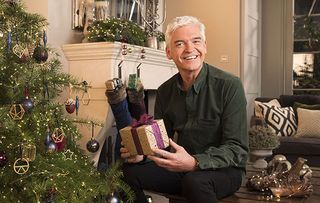 Phillip Schofield on the best toys, gadgets and food and drink this festive season
Phillip Schofield next this week with a new three-part run of ITV's How To Spend It Well At Christmas, which once again sees the This Morning star testing the best toys, gadgets and food and drink to reveal what we should definitely buy for the 25th December and what's a waste of money.
Here, Phillip Schofield tells TV Times How to Spend it Well at Christmas…
TV Times: What do you love about How To Spend It Well?
Phillip Schofield: "It's fun and helpful. Last Christmas people said, 'This is brilliant, I've sorted all my presents.' And today someone on Twitter said, 'Please tell me it's coming back, because I haven't bought anything yet!'"
TVT: The first episode looks at toys, what stood out for you?
PS: "I tried some Segway e-skates, which were great, but the fun police have stopped them being used in parks! Riding on a giant toy unicorn was fun too. We also look at Poopsie Unicorn, which poos glitter and you carry the unicorn poo around in a keyring. It's absurd but each to their own!"
TVT: Which gadgets you tested do you want in your stocking?
PS: "I have to crawl under the tree to turn off my Christmas lights but a smart plug turns them off at the touch of a button so I'm having one of them. Also, I'm a wine fan and we found a magnetic decanter cleaner that's cheap and effective and if there isn't one in my stocking I'll be disappointed!"
TVT: You also have celebrities helping you road test products don't you?
PS: "Yes the Emmerdale gang had a ball tasting food and drink and we have Gok Wan and his dog Dolly testing pet toys. There's a clip that goes on top of your phone and you put a ball in it and the dog is immediately interested so you get the best dog pictures. Dolly adored it."
TVT: Is it odd watching your This Morning co-host Holly Willoughby in the jungle with Dec on I'm A Celebrity?!
PS: "We're all good mates so it's not weird. But Holly's terrified of everything, that's why I'm watching! Joe Swash told me, 'I hope she realises with the live tasks, when they release the bugs, it's like a moving carpet advancing towards you.' Unfortunately she'd gone by the time I heard that so I couldn't warn her!"
How To Spend It Well At Christmas with Phillip Schofield airs on Tuesday 27 November at 8pm on ITV
Get the latest updates, reviews and unmissable series to watch and more!
Thank you for signing up to Whattowatch. You will receive a verification email shortly.
There was a problem. Please refresh the page and try again.