Piers Morgan gets a rollicking from Susanna Reid for swearing on Good Morning Britain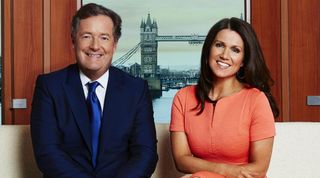 Piers Morgan put his foot in it on his first morning back at work after the Christmas break when he swore live on the Good Morning Britain sofa while talking about the Royal family.
Piers, 50, was talking about a documentary exploring the 40th anniversary of the Prince's Trust when he got a swift telling off from co-host Susanna Reid for saying "b*********".
Susanna told off Piers on air (ITV)
He said: "(Prince Charles) sends William and Harry these notes in his famous spidery handwriting and they actually can't work out what he's saying – and whether he's praising them or b********* them!"
"Excuse your language, Piers Morgan, at this time in the morning," Susanna chastised.
"Can you not say that? I would like to apologise," Piers replied.
But Piers seemed unrepentant on Twitter after the event, first gleefully tweeting: "Am I going to get a rollicking for saying b*********?"


Prince Charles was the subject of conversation (Alan Davidson/TPL/AP/PA)
He followed up by dismissing the whole controversy: "Is 'b*********' actually a swear word? I don't think so."
He then used an article by Richard Branson that claimed the word was an 18th century nickname given to priests and not offensive at all to demand an apology from Susanna.
But if he wasn't going to eat his words then Susannamade sure he chowed on some kale – Piers' most hated vegetable.
What it's like to eat kale live on national television. @GMB pic.twitter.com/Y9ansBeziA
— Piers Morgan (@piersmorgan) January 4, 2016
The presenter, who joined the GMB couch in November for three days a week, threatened to 'puke' if he ate the cruciferous veg. But he was forced to swallow it as he helped GMB launch its Eat More, Lose More healthy eating campaign.
It seemed Piers wasn't fully on board, however, as he suggested to one viewer to eat a pastry for breakfast instead of porridge.
All in all, his morning got a mixed review from viewers.
@GMB the best #diet you can offer is getting rid of that 15 Stone of unsightly fat that is @piersmorgan off your show!
— Sambelina (@SambelinaViolet) January 4, 2016
@GMB @ITV @piersmorgan why have you got piers on, hope not a regular presenter. Obese country & says eat pastry & swore! Buffoon! Get rid!
— Louise hall (@loobyhall16) January 4, 2016
I really enjoy watching @piersmorgan on @GMB . A tad on the edge at times but speaks honestly and makes me smile.
— Cherry rumsey (@Cherryrumsey) January 4, 2016
@GMB @piersmorgan is right, Kale is DISGUSTING!!!! This diet is ludicrous!!!!
— Zexog Fartgas (@85c4a2e78291400) January 4, 2016
Get the latest updates, reviews and unmissable series to watch and more!
Thank you for signing up to Whattowatch. You will receive a verification email shortly.
There was a problem. Please refresh the page and try again.