Leeds Contemporary Singers win Pitch Battle after tense live final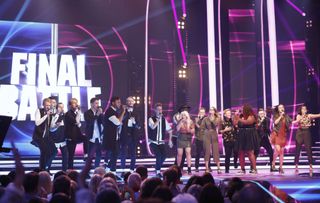 Leeds Contemporary Singers were crowned the winners of this year's Pitch Battle after a tense live final. The choir will take home £50,000.
Leeds Contemporary Singers were crowned the winners of this year's Pitch Battle after an all-singing, all-dancing live final.
The choir battled their way through the sing-offs and faced fellow contestants All The King's Men in a public vote.
Six choirs were left to battle it out after being whittled down from 30 contestants at the beginning of the competition.
Vocal harmony quintet Scot Soul were the first group to perform, singing with soul legend Chaka Khan.
Next up was chamber choir Tring Park 16 with international pop star Nick Jonas.
The two groups then had to go head-to-head in a 'Believe'-themed riff-off.
Scot Soul kicked off the contest with The Monkees' I'm a Believer, while Tring Park 16 fought back with Cher's Believe.
Scot Soul replied with an enthusiastic rendition of I Believe in Miracles, while Tring Park sang The Darkness's hit I Believe in a Thing Called Love.
The judges faced a difficult decision as they were forced to choose just one choir to send through to the next round.
Kelis said: "This is a really hard decision because I do love both groups so much, but I have to go with Scot Soul."
Gareth, on the other hand, said he was going to reward "youthful exuberance", opting to save Tring Park 16.
The deciding vote was left with guest judge Deke Sharon, who chose to save Scot Soul.
Next up was the Portsmouth University Gospel Choir, who sang U2's hit I Still Haven't Found What I'm Looking For with pop legend Seal.
The Portsmouth University Gospel Choir faced a fierce sing-off with university A Cappella group All The Kings Men.
The university groups were tasked with a 'Crazy'-themed riff-off, and the battle included songs such as Britney Spears' Crazy, One Direction's Live While We're Young, Beyonce's Crazy in Love and Patsy Cline's Crazy.
When it came to decision time, All The King's Men secured two votes, meaning the Portsmouth University Gospel Choir were knocked out of the contest.
Vocal harmony group Leeds Contemporary Singers were next to perform, singing Maroon 5's 2002 hit This Love with pop star Will Young.
Judges wildcard Sgarmes were the next group to perform, singing Jackson 5 hit I'll Be There with original band member Jermaine Jackson.
The two bands then faced the final themed riff-off, which had the theme of Royalty.
Sgarmes and Leeds Contemporary Singers gave fierce renditions of Lorde's Royals, Prince's My Name is Prince, ABBA's Dancing Queen, and Years and Years' King.
The judges unanimously chose to save Leeds Contemporary Singers, ending Sgarmes' Pitch Battle journey.
The three remaining bands immediately entered the A Cappella round.
Scot Soul were the first perform, singing Sam Smith's Lay Me Down.
All The King's Men were up next, singing Jordin Sparks Battlefield.
Leeds Contemporary Singers finished off the A Cappella round with Sigma's Higher.
The judges chose to send All The King's Men and Leeds Contemporary Singers through to the final round, but it was Leeds Contemporary Singers who won the public vote.
@Supersizer1 tweeted I voted for Leeds. Glad you guys won! All the best in the future. xx
@amber_rihanne wrote: Well deserved win by Leeds contemporary choir #PitchBattle
Get the latest updates, reviews and unmissable series to watch and more!
Thank you for signing up to Whattowatch. You will receive a verification email shortly.
There was a problem. Please refresh the page and try again.