Poldark star Ellise Chappell: 'Morwenna is broken'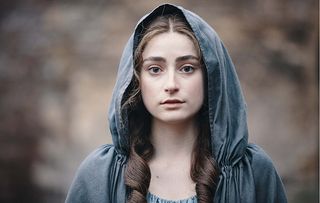 (Image credit: BBC/Mammoth Screen/Mike Hogan)
Poldark favourite Ellise Chappell on the latest harrowing twist for the tormented vicar's wife and why playing Laser Quest with her co-stars helps her cope with the stresses of 18th-century Cornwall
There's no doubt poor Morwenna Whitworth, played by Ellise Chappell, is the girl all Poldark fans are rooting for.
Pining for true love Drake Carne, but married to odious clergyman Ossie, Morwenna has been pushed to the point of threatening to harm beloved son John Conan if the vile vicar imposes himself on her again.
"Morwenna is still on edge and she's deeply unhappy, but there's an interesting power play between her and husband Ossie this series," reveals Ellise in an interview with TV Times.
"She has this threat against her son, which acts like a shield between her and Ossie, allowing her to be a little bit bolder. Even though it's an awful thing to do, it provides Morwenna with a small sense of security and control over her own situation."
So far Morwenna's refusal to let down her defences has forced Ossie back into the arms – and bed – of her scheming sister Rowella. She's also had to contend with Ossie's terrifying mother Lady Whitworth (Rebecca Front).
And things get even worse for Morwenna tonight as Ossie plots to have her committed to a mental asylum for refusing him his "conjugal rights". Will he succeed in his plan?
Here Ellise Chappell, 26, tells us more …
Morwenna is still having a miserable time this series…
Ellise Chappell: "Yes, she goes through a lot and her strength and resilience are tested on many occasions, so she's quite broken. But at the moment she keeps going knowing she's still in Drake's mind."
Is it hard playing a character that has so many awful things happen to them?
EC: "Definitely. It's a challenge but also a great learning experience. Last series Morwenna started out in such a different place to where she ended up, so it was an amazing opportunity to explore that. But she does end up in a harrowing, difficult place, so as an actress it's hard to get into that headspace."
Do you get a lot of support from the rest of the cast?
EC: "Yes all the cast and crew are wonderful. You put yourself in this headspace for a whole day, but having that support around you is just amazing – at the end of the day we all just go out for a drink!"
You get to hang out with each other off set a lot, then?
EC: "All the time! A lot of us stay in Bristol [where the interior scenes are filmed], so if we have a day off we find things to do, like go out for brunch and dinner, and just hang out and be friends.
"I'm a bit of a nerd and love history so I also go exploring by myself – there's so much to see in Bristol. Last year a few of us played Laser Quest, which was fun, but I was so bad at it! I thought, I'm nailing this, and then they showed the scores at the end and I only got two points. Tom York [who plays Sam Carne] won!"
What's it like no longer being the new girl on the block?
EC: "It's been really nice. I haven't had the nerves that I had at the beginning of series three. I really wanted to do the character and the books justice and I was thinking, 'I hope everyone likes me!' But this time it's like coming back to a family, which is really cool. Also everyone is really rooting for Morwenna and Drake and I've had some lovely letters from people saying they hope they end up together!"
How did you find filming with new cast member Rebecca Front (Lady Whitworth, Morwenna's mother-in-law)?
EC: "She's so wonderful and she couldn't be further from the character she's playing – this formidable, quite terrifying woman – she's nothing like that! I've been watching her on TV for so long, so to work with her is very cool!"
Does any of your family watch the show?
EC: "Yes and they love it! My parents were big fans of the original 1970s show and they'd watched this one before I was in it, so when I got the part they went nuts! They're always asking me to give away secrets about what's going to happen, though, but I think you need to enjoy the story as it comes out!"
Poldark continues tonight at 9pm on BBC1.
Get the What to Watch Newsletter
The latest updates, reviews and unmissable series to watch and more!