Rebecca Adlington: 'I'm not sure what's harder – MasterChef or the Olympics!'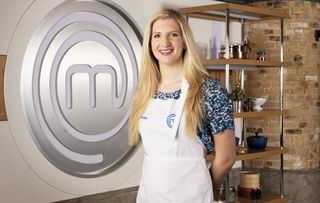 (Image credit: BBC/Endemol Shine Group)
Olympic swimmer Rebecca Adlington reveals why taking part in Celebrity MasterChef was a dive into the deep end…
Rebecca Adlington holds two gold and two bronze Olympic swimming medals and has also set records in British, Commonwealth, European and Olympic swimming. So you'd think taking part in Celebrity MasterChef would be a breeze for the accomplished British swimming champion. But MasterChef can do funny things to people!
"The atmosphere in the MasterChef kitchen is really, really intense. I'm not sure what's harder MasterChef or the Olympics. I'm used to pressurised situations, I don't crumble under pressure, but not only was it intense I didn't have a clue what I was doing!" Rebecca told What's on TV. "At least with swimming I feel confident. MasterChef was out of my comfort zone. Afterwards it felt like I'd swum a race. I was physically exhausted, but I kind of liked it!"
Joining Rebecca in the competitive kitchen this week are Debbie McGee, Outnumbered star Tyger Drew-Honey, S Club 7 star Rachel Stevens and Radio 1 DJ Dev Griffin. It's a good mix and everyone gets on, but when the ingredients of the Mystery Box round are revealed to include minced meat and pears, and the second round puts the celebrities in a professional kitchen the pressure is well and truly on...
"You go blank when you see the Mystery Box. You know what you could cook, but your mind freaks out!" revealed Rebecca. "Cooking in M restaurant in London was insane too. The heat, being on your feet, and cooking for paying customers – I see restaurants in a different light now."
The celebrity cooks' final chance to impress judges John Torode and Gregg Wallace comes in the third heat when they cook two courses of their own choosing. This round is Gregg Wallace's favourite, which adds to the pressure!
"The final menu is a double-edged sword. You feel more confident because you've done it before, but that's also the scariest thing in the world!" said Rebecca. "John and Greg are a bit scary to cook for because they're so iconic. But what I really liked with them was how they passed judgement. It was constructive criticism – they never have a go at you!"
Rebecca added: "I definitely haven't gone into MasterChef thinking I could win. My only goal is to try and make it through the first heat.
"The whole time I swam food was fuel. After I retired I put on a lot of weight because for the first time in my life I could indulge! Now, it's back to basics again. MasterChef is a possibility to learn!"
Find out if Rebecca sinks or swims in Celebrity MasterChef on BBC1, Wednesday August 23 at 8pm
Get the latest updates, reviews and unmissable series to watch and more!
Thank you for signing up to Whattowatch. You will receive a verification email shortly.
There was a problem. Please refresh the page and try again.