Richard Linnell on Hollyoaks return: 'You'll see a bit of a change in Alfie!' (VIDEO)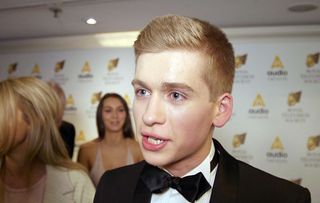 Richard Linnell has spilled the beans on what people can expect when Alfie returns to Hollyoaks from America
Richard Linnell has reflected on his past year in Hollyoaks and hinted about what's in store for his character Alfie Nightingale when he returns from living it up in America.
Alfie was recently seen jetting off to Los Angeles with his grandmother Tabby – played by former Dallas star Linda Gray – after bidding an emotional farewell to his lost love Jade Albright (Kassius Nelson), who died of cancer last year.
Alfie has also been left devastated by the death of his brother Nathan.
Talking to What's on TV on the blue carpet at the Royal Television Society Awards 2017, where Hollyoaks had been nominated in the Soap and Continuing Drama category, Richard reflected on Alfie's traumatic year.
"It's been an absolutely incredible year, he's been through one heck of a lot," he said. "He had the loss of Jade and the massive storyline we did with Stand-Up To Cancer, then recently his brother's died as well, so there's been a lot of heavy stuff to deal with for Alfie."
Fortunately, Alfie found a shoulder to cry on in the shape of his grandmother Tabby. Talking about a recent scene where Alfie and Tabby sat on a bench eating fish and chips, Richard said: "It was in the freezing cold, raining on and off, the chips had gone cold by the end of it, it was about four and a half hours and she was so happy, lovely to work with, bubbly, still cracking jokes all the way through. I'd love to see her again. She's a lovely, lovely person."
And it seems Linda was as new to the British way of eating fish and chips as Tabby was...
"Linda didn't know those wooden forks existed; when she said she'd never tried fish and chips, honestly she never had,' revealed Richard. "When she saw those forks she was like: 'What do you mean, forks?' She'd honestly never seen one of those two-pronged chip forks in her life!"
Richard revealed that viewers will see 'a bit of a change in Alfie' when he returns to Hollyoaks.
"When he comes back he's a lot more grounded, he's still got that lovely, bubbly, fun energy but he's got to be the brotherly supportive figure now, particularly with Ellie's storyline and all the stuff with Nick,' he said. "He's got to be there to support her for that. So you'll be seeing a bit of a change to Alfie, yeah."
Catch up with Hollyoaks, weekdays at 6pm on Channel 4.
Get the latest updates, reviews and unmissable series to watch and more!
Thank you for signing up to Whattowatch. You will receive a verification email shortly.
There was a problem. Please refresh the page and try again.