Strictly's Louise Redknapp, Lesley Joseph and Judge Rinder: 'It's like a rather curious dream!'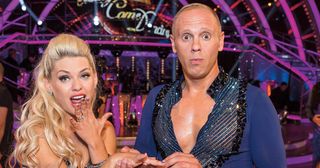 (Image credit: GUY LEVY)
Louis Redknapp, Lesley Joseph and Judge Rinder tell TV Times what it's REALLY like to be a Strictly Come Dancing contestant
Strictly do it to us every year. After the excitement and glamour of the Strictly launch show, there's a seemingly never-ending wait before the live shows begin and the couples finally take to the floor.
This year we're set to be captivated by celebrities including former pop star Louise Redknapp, dancing with popular pro Kevin Clifton, TV legal eagle Judge Rinder, partnering with new girl Oksana Platero, and Birds of a Feather star Lesley Joseph, shimmying across the floor with Strictly veteran Anton Du Beke.
And because TV Times is horribly impatient, we asked Louise, Judge Rinder and Lesley to entertain us ahead of the live shows, sharing tales from training and news of Will Young's new vacuum cleaner…
What made you sign up? Louise: "I've always been a big Strictly fan, but this is the first time my children were old enough to allow me to do something for me. You put so much on hold when you have a family, and this is a really fun way of getting back out there and performing like I used to." Lesley: "It's the sort of show that allows you to act out your fantasies and do everything you've always longed to do on a dance floor, even if it's ridiculous!
"I'd love to stay for Movie Week and play Annie in a ginger wig. I also suspect a lot of the Strictly audience are slightly older, so I hope they'll get behind me and I might inspire a couple of people to dance and get fit." Judge Rinder: "You get free outfits, which was a draw, but the reality is I'm really into dancing. Plus my grandparents, who're in their nineties, really enjoy Strictly and if I said no then they would have missed out on an opportunity to come. It's much more than escapist telly to their generation, there's authentic nostalgia there and it's very powerful for them."
How did it feel performing at the launch show? Judge Rinder: "It was so surreal, I felt like I was in a rather curious dream. There's a moment where you think, 'Gosh, I am on the Strictly set, dancing with Ed Balls'. That's not a sentence that sits immediately comfortably in reality.
"I really enjoyed meeting Claudia Winkleman, she's extraordinary – like the embodiment of Oscar Wilde doing jazz hands." Louise: "It brings those nerves back from being on stage. But everyone is in it together, so it's actually quite heart-warming and you realise this is going to be a really nice time in your life." Lesley: "The series is like a juggernaut and the audience are besotted with it. I've worked at the BBC for years and I've never come across anything that gets the same reaction – there are people queuing outside the studios at 9am and the atmosphere is electric. It's very exciting and the first time I've been in a make-up room where someone says, 'No, you're not wearing enough glitter!'"
You all seem delighted with your professional partners? Lesley: "I'm thrilled to get Anton. I was worried they'd think, 'Let's put Dorien with a younger man,' but I'm not Dorien and I need someone to guide me. Anton will be superb because he's got great patience and a sense of humour." Judge Rinder: "I was hoping for a Victorian school ma'am, but more attractive, so I've done well. Oksana is amazing, she's harsh but kind and promises that if I do well in training she'll permit me to take her shopping. She is also threatening real physical consequences if I get the steps wrong, what's not to like?" Louise: "I'm really pleased because I'm friends with Frankie Bridge, who danced with Kevin in 2014, and she kept saying how nice he was and how much I'd enjoy dancing with him. He's so down to earth and I've always noticed his great choreography."
What fazes you most about Strictly? Louise: "I think my biggest hurdle is going to be having the confidence to get out there again. It's so important to me to make the most of it and give the dances everything I've got." Lesley: "I think my limbs will be like jelly for the first show, because I'm not a dancer, I can't kick my leg up like some of the girls. But I'd like to impress the judges with my commitment. I haven't lasted this long in the business without taking my work incredibly seriously and I'm honoured to do Strictly, so it's not a joke for me." Judge Rinder: "People keep coming up to me saying, 'Gosh you're going to be training so hard' and I keep thinking, 'When's the work going to start?' My career took me to Sierra Leone where I really had to work hard. Now I get up in the morning and I'm taken by an extremely brilliant woman to learn how to dance. Then I put on costumes that people have made for me and they tell me how fabulous I am!"
Are you prepared for those pesky judges? Lesley: "The very odd thing is that I know Craig Revel Horwood, because I've just been job-sharing with him. We've both been playing Miss Hannigan in Annie, which is a bit bizarre, but it's wonderful to be working with him on Strictly." Judge Rinder: "I'm genuinely starstruck whenever I see Darcey Bussell, I'm a real fan. She's a legend, just as some of the other judges are. Craig seems pleasant, but mildly intimidating. Being introduced to him was like meeting a spinster aunt." Louise: "I think I'll just take any criticism on the chin, I'm not naturally comedic like Rob (Judge Rinder). I only get feisty when I really have to – that's when 'Lewisham Lou' comes out!"
Is there a lot of camaraderie between the contestants? Louise: "Everyone's lovely and people keep saying that me and Tameka Empson are the new Patsy and Eddie from Absolutely Fabulous! We all look to each other for support and keep in touch via a WhatsApp group.
"The other day Will [Young] was working out whether to get a warranty on his new vacuum cleaner and Naga [Munchetty] was telling him it was a waste of time. Then Anastacia said, 'Are we really talking about vacuums, guys?' It's priceless, and really bizarre to get text messages from Ed Balls on a Saturday night…"
Are you excited for your friends and family to see you on the show? Louise: "I am, my sons have only ever seen old videos of me performing so I'm hoping to do well enough that they think, 'OK, mum's got rhythm!' They're going to be making regular appearances down at the dance studio and my husband, Jamie, says he's going to bring me packed lunches. That'll last about three days and then he'll be up the golf course!" Lesley: "Linda Robson was in the audience for the launch show – I couldn't keep her away! She's incredibly excited because she's been telling me to do the show for years. I'm hoping Pauline [Quirke] will come down to watch one of the shows too." Judge Rinder: "My colleagues really enjoy Strictly and they're very supportive. I've told all of my friends that this is one moment where kindness is more important than truth, so they're being nice to me. It's exhausting for them! Although I did have one friend, an Oxford don, who texted me saying he was perplexed because he thought I was going to be baking…"
Get the latest updates, reviews and unmissable series to watch and more!
Thank you for signing up to Whattowatch. You will receive a verification email shortly.
There was a problem. Please refresh the page and try again.