Robson Green reveals 'the day I realised I was a coward' during near-tragic fishing trip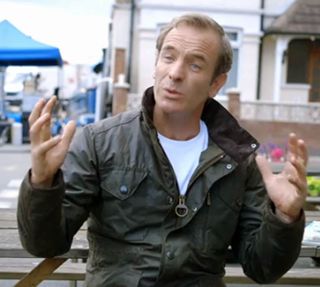 Size matters to Robson Green when he's fishing - but staying alive matters more!
Robson has confessed his first thought was for himself when one of his crew fell overboard into shark-infested waters during the making of Extreme Fisherman, his series for Quest TV channel.
"I was in Kenya when the deckhand 'billed' a black marlin - to pull the fish onboard, you grab it by the bill and hold it by the tummy and bring it up gently," explains Robson, 49.
"But it wasn't ready to come onboard and it flipped this deckhand, a guy called Jackson, into the water. Now, when a fish is on the end of a line, it gives out distress signals, and that marlin was giving out distress signals to two 700-pound tiger sharks that were behind it. And that day I realised I was a coward - because I didn't strip off, matey, and jump in to save old Jackson, I just shouted, 'swim Jackson and don't look behind you!'."
That's not Robson's only heart-thumping adventure on the high seas, either.
"I was caught in a hurricane a few years back off the Brooks Peninsula, on the west coast of Canada," Robson reveals. "That was very scary. That was the nearest to death I've ever been. Even the captain said, 'I don't think we're going to make it'. And when the captain says that - whoa. I'm not a religious man, but I did have a few words with the Almighty."
Robson rose to fame in military drama Soldier, Soldier with Jerome Flynn, and the pair went on to have several chart hits as pop duo Robson & Jerome.
He revealed he now tunes in to Game of Thrones to watch his old pal.
"My son is a fan, he's read all the novels. I watch it, just because my mate's in it - but the production values are very high. I prefer Ripper Street, though. I think Jerome's fantastic in that. Deservedly, he got the BAFTA nomination. He's doing well, but I always knew he'd do well - he's a great actor."
Robson Green: Extreme Fisherman continues on Quest, Monday, August 11, 9.00pm
Get the What to Watch Newsletter
The latest updates, reviews and unmissable series to watch and more!