Robson Green: 'This series of Strike Back is off the scale!' (VIDEO)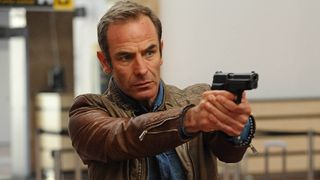 Prepare for spectacular explosions and death-defying stunts as the final series of Sky one's action-packed SAS drama Strike Back hits our screens in June.
Robson Green will be returning as Lt Col Locke and the former Soldier, Soldier star told us the show will be going out with a bang and this is biggest and best series yet.
The fifth series begins with Section 20 heading to Thailand to try and rescue the daughter of the British Ambassador, who's been kidnaped by terrorists, in a plot that will eventually lead them to North Korea...
"Just when you thought the explosions couldn't get any bigger and the stunts couldn't get any better - they do!" Robson told us. "These are action movies for television, they really are. This is not normal action TV, it's off the scale. These are stunts and special effects the like of which we'll never see again."
Yet the series nearly didn't happen at all because Robson's co-star Sullivan Stapleton was nearly killed after suffering an accident during filming last year.
"It was an upsetting time," explains Robson. "I was very upset when I got the call about what had happened. The image of someone you care about and love... he could have lost his life. But it was a tough time for everybody, accidents happen. Thank goodness for many things and the amazing people who saved his life in hospital.
"Once he got back to full fitness, I kicked the sh*t out of him! Don't ever do that to me again!"
Robson also had great success with period drama Grantchester this year and can't wait to get back on set for the second series...
"I'm looking forward to getting back to Cambridge," he says. "I loved working alongside James Norton, he's an absolute darling!"
Strike Back returns to Sky 1 on Wednesday, June 3.
oahorhgi
Get the latest updates, reviews and unmissable series to watch and more!
Thank you for signing up to Whattowatch. You will receive a verification email shortly.
There was a problem. Please refresh the page and try again.