Rylan Clark-Neal on The Wave: 'On our very first rehearsal day a massive wave hit the shoreline and wiped out our entire set - it was terrible'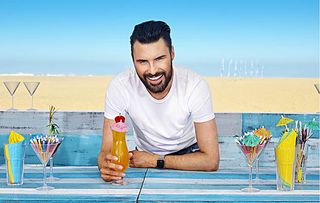 Rylan will be hosting a new show, which starts tonight on W at 8pm, in which contestants must brave the ocean waves to win cash...
This Morning host Rylan Clark-Neal will be bringing us sun, sea and surf in a brand new gameshow where couples must answer questions while braving the might of the Atlantic Ocean.
Yet while one player is battling through choppy waters off the coast of Portugal in a bid to win cash, the other will be sitting on the beach sipping cocktails with Rylan!
"The Wave is a game [of luck, skill, general knowledge," says Rylan. "But the most important part of it is communication and knowing when to stop and swim home. You have to remember; these guys aren't in a swimming pool, they're facing wind, currents and big waves in the Atlantic Ocean!"
In each episode, one player swims two hundred metres out to sea, where a line of pontoons floats in the ocean. After conferring with their partners, swimmers win cash by answering questions at each stop, but if they get one wrong they find a kilo of weight added to their belt. To make things extra tricky, if they don't get back to the beach before the clock stops they lose everything!
Rylan tells us more about The Wave…
WOTV: What can you tell us about the contestants?
Rylan: "We've had a real mix. We had twins on the show, boyfriends and girlfriends, mum and daughter, dad and son, friends. It's just a pair of contestants who have obviously got a relationship. And more importantly you test that relationship because of the decision that the person is out in the middle of the sea and you have to decide when to stop. Sometimes, the one on the shore wants them to carry on but they're not the ones doing it!"
WOTV: How was it to film?
R: "Well the sea changes so quickly and it can get pretty rough. Some days the swimmer would walk off and by the time I got to the bar to do the questions, the waves were enormous. Just like that! You could have the perfect weather conditions and ten minutes into the game, everything changes and that's what you have to decide. You think hang on a minute these waves are getting a lot worse. It's very tactical and you've got to know when to stop, that's the most important thing. That's where a lot of people fail."
WOTV: Have there been many rows?
R: "Yeah all the time, because if the person on the beach gets a question wrong they get a kilogram of lead weight in their money belt, which obviously isn't fun! A kilogram doesn't sound too much but believe me when you've got two or three of them in a belt in the middle of the ocean and you've been swimming for three minutes against the clock … believe me it's like having an extra body on top of you."
WOTV: Has there been a contestant that surprised you?
R: "Yeah there was one chap who wasn't built very big, but he was amazing. No one could believe it! He was the opposite to the body builder type. It just shows that it doesn't matter about your body size it doesn't matter about how much you can lift in a gym it goes to show how strong a swimmer are you, your technique and knowing when to stop."
WOTV: Did you have anyone who you had to tell to stop?
R: "Definitely. Luckily we have Olympic silver medallist Keri-anne Payne, who's overseeing the whole thing and steps in if they try to go too far and put themselves in danger. She's out to sea with them on a boat and she's there to offer advice. Some people don't like being told to stop, but it's not about us not wanting them to win more cash, it's about them getting back to the shore alive!"
WOTV: Where is The Wave filmed?
R: "We filmed this on in Northern Portugal, which was paradise. It was beautiful, but I've never in my entire life seen waves as what I saw there. I'm talking 50ft at times. There were days when we'd get there at nine in the morning and we weren't able to do anything until four in the afternoon because the waves were just crazy. On our very first rehearsal day a massive wave hit the shoreline and wiped out our entire set and we had to reset it. We had to take the set completely down, stop filming and we didn't know if we were going to get a show. It completely wiped out billions of pounds worth of kit that we had. It was terrible. I really thought it wasn't going to happen. It is frustrating but ultimately the only thing we can't control is the sea".
WOTV: This is very different to other stuff you've done…
R: "I never look at the next thing I'm doing. I've been really lucky over the past five years, but I like mixing it up. There are a lot of things I say no to every day and I'm lucky enough to be in that position. I'm not doing jobs because I need the job, I'm doing the job because it's something I want to do. When The Wave came along I didn't really understand it at first but once they'd explained it and I was shown the format it instantly flicked something in my brain and I thought one I thought I could do this and two actually enjoy it."
WOTV: You've kept your feet on the ground, what's your secret to not letting fame go to your head?
R: "I'm just not an a*******! I don't think of myself as anyone special because I'm not. I just went on a reality show, got very lucky and have worked hard every day since. I'm nice to everyone. I don't care if you're a runner, a researcher, a member of the public or the head of the channel I'll treat every person the same and I'll treat them exactly how I want to be treated."
WOTV: There are lots of 'stars' who don't though…
R: "Yeah that's true and and sometimes they don't work and sometimes they're the biggest stars on the planet but I don't want to be like them. I'll never be like that. The day I ever feel I've got like that I'll hang up my boots and go and live in the country. My friends and family would slap me!"
The Wave is on Monday - Friday at 8pm on W
Sean has been writing about all things telly for over 10 years and in that time he's been lucky enough to interview stars like Ian McKellen, Tom Hardy and Kate Winslet. His favourite shows are The Great British Bake-Off, People Just Do Nothing and Succession and in his spare time he enjoys drinking tea, doing crosswords and watching football.
Get the latest updates, reviews and unmissable series to watch and more!
Thank you for signing up to Whattowatch. You will receive a verification email shortly.
There was a problem. Please refresh the page and try again.