Broadchurch star Sarah Parish talks with painful honesty about the death of her daughter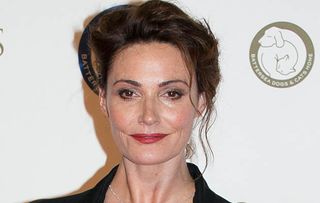 (Image credit: PA Archive/PA Images)
In a candid article, Sarah Parish reveals how she and husband James Murray struggled to keep their marriage alive through some 'terrible, terrible times' after their baby daughter died
Broadchurch star Sarah Parish has said the loss of her baby daughter almost ended her marriage.
Her daughter Ella-Jayne died in 2009 when she was just eight months old.
The actress and her husband, actor James Murray, were devastated by the loss of their child, who was born with Rubinstein-Taybi syndrome which caused a large hole in her heart and a defective heart valve, and Sarah has said it almost destroyed their relationship.
Writing in the Daily Mail, Sarah said: "Such an incredible loss inevitably puts an enormous strain on a relationship because people grieve in different ways.
"It would take the most emotionally mature people to be able to cope in that situation, and to comfort one another in the correct way.
"I can only say now, eight years later, that I'm not sure we were able to do that at the time.
"We have made mistakes and done things that don't work for each other – and you either end up together, or you don't."
Sarah said they might not still be together if they hadn't created a charity, the Murray Parish Trust, in memory of their daughter.
She wrote: "It has given us something to focus on and it has most definitely been good for our relationship.
"I hope that by speaking out now, I may help other couples who find themselves in that same sad position, and that something positive might come out of something so tragic.
"The day she died she took a bottle for the first time; she held our gaze and smiled into our eyes. For Jim and I, it was very, very difficult. It left a huge hole in our lives. I now know that losing a child is the hardest thing to happen to anyone; that we had never experienced tragedy before she died. We had never truly understood grief or loss."
She added: "I had support from my friends. But at home, Jim and I did things that didn't work for each other. The pressure of grief is such that either you end up separating or, miraculously, you don't. Jim and I have remained together despite some terrible, terrible times.
"We have our problems like any other couple. But we made some decisions which ultimately helped bring us through to the other side intact."
The couple are now parents to daughter Nell, seven, who was born 10 months after Ella-Jayne died.
Sarah said: "Her birth could have been bittersweet but she's the light of our lives and we are loving watching her grow up."
Broadchurch continues on ITV, Monday, March 13, 9.00pm.
Thank you for signing up to Whattowatch. You will receive a verification email shortly.
There was a problem. Please refresh the page and try again.