Sheep stunt for Countryfile's Shakespeare special sparked chaos in Stratford-upon-Avon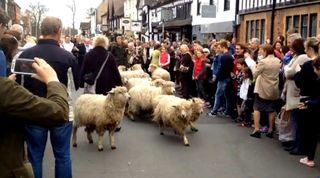 Countryfile's Shakespeare special caused chaos when presenter Adam Henson attempted to herd a flock of sheep in Stratford-upon-Avon.
The episode, due to be broadcast on April 24, celebrates the Bard's home town and his family's trade in wool.
Countryfile presenter Adam Henson (Oliver Edwards/BBC)
The intention was to film Adam interviewing the town's mayor, but some of the sheep had other ideas. One walked away from the main street and another was more interested in a couple of pensioners who were watching the shenanigans.
Last week, Countryfile's producers informed businesses that filming would be taking place in Sheep Street, and that the road would be shut between 2.30pm and 3.30pm.
http://www.youtube.com/watch?v=s1Ia_FbjEJ0&feature=oembed
The information said: "Marking 400 years since William Shakespeare's death, BBC Countryfile is reconnecting his home town with his family's trade in wool. To celebrate, we are bringing sheep to Stratford. A small BBC TV crew will film Adam Henson herding a flock of sheep down Sheep Street. We apologise for any inconvenience."
(Oliver Edwards/BBC)
Emma Anderson, who works in Sheep Street, told the Telegraph: "It was very entertaining, particularly when two of the little beauties decided to run up the side of Lambs restaurant and the production team ran after them."
She added: "There were so many people crowding round, it was absolutely manic. There were loads of children too – that definitely added to the commotion. The film crew and their sheep stopped every 50 yards or so to do an interview."
A spokesman for the BBC One series said the sheep were 'independently minded'.
Countryfile presenter Matt Baker (Oliver Edwards/BBC)
The hugely successful show, presented by Matt Baker, Ellie Harrison, Adam Henson, Tom Heap and John Craven, regularly attracts seven million viewers.
Get the latest updates, reviews and unmissable series to watch and more!
Thank you for signing up to Whattowatch. You will receive a verification email shortly.
There was a problem. Please refresh the page and try again.