'The Shire horses were mesmerising!' Former Emmerdale star, Kelvin Fletcher, gets back to the farm for a new series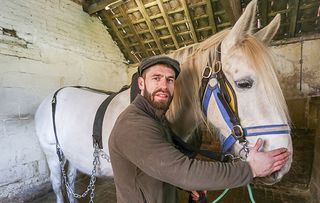 Former Emmerdale actor Kelvin Fletcher is back in the fields and mucking in with a host of animals for a new series of Springtime on the Farm
He's best known as Emmerdale favourite Andy Sugden, so it's not difficult to picture Kelvin Fletcher on a farm. After 20 years playing Andy, it seemed like fate when Kelvin's first post-soap gig was a presenting role on Channel 5's Springtime on the Farm last year.
The series returns for a second outing on Monday, and Kelvin is mucking in again with Countryfile's Adam Henson, JLS singer-turned-farmer JB Gill and presenter Lindsey Chapman to celebrate Britain's farms and bring us heart-warming stories about the joys of Spring.
"The passion and enthusiasm of the farmers is brilliant," says Kelvin, 35. "Animal welfare is absolutely paramount and I've never met a farmer who's not got an amazing work ethic."
TV Times caught up with Kelvin during a busy day's filming for him on Hockerwood Farm, Nottinghamshire to hear more...
TV Times talks to ex Emmerdale star Kelvin Fletcher
TV Times : What have you been up to today?
Kelvin Fletcher: "I've been filming with the biggest horses I've ever seen – 18 or 19 hands! It was a bit daunting at first, but they're gentle giants. Standing next to them, I'm mesmerised by their sheer size and stature. Their temperament is so calming you can't help but want to get closer and closer. I was told the only weather they don't like is wind and today it's blowing a gale, but it's been a great day."
TVT: Did you get to work with them?
KF: "Yes, I met a big male horse called Stanley and a mare called Isabella, who is hopefully about to deliver a healthy foal and continue the line of the shire horse. I didn't get a chance to plough because the fields were too wet today, but we did harness Blossom the mare, and I drove her as she pulled a load of hay bales. Shire horses are used to pulling double their body weight, which would be about 1.5 tonnes for Blossom. With me she pulled about 100kg, so it was a light day!"
TVT: Did you get a chance to ride, too?
KF: "I have ridden horses in the past but I couldn't today because of health and safety. If I was going to go trotting through the fields on any horse, I would want to do it on a Shire. They're so calm and relaxed."
TVT: Having filmed with them, do you have a sense now of why shire horses are iconic?
KF: "Yes, they're beautiful, majestic animals. They were bred as working farm animals, but are somewhat redundant now because of machinery. Thankfully there are some people out there who still breed these exceptional animals. I met Geoff, a breeder who is a big part of why shire horses are still continuing. He's a bit of a saviour.
"I also met Mike, who was a teacher for 25 years, and now he's retired spends his days walking in the fields with these beloved horses. He chats to them and says they listen well. It's lovely to know there are people who want to carry on these traditions. They're not just animals, they're so much more."
TVT: How comfortable generally are you with farm animals?
KF: "People probably assume I'm comfortable on a farm, but after they've heard me ask a couple of questions they quickly learn I'm not! I'm not from a farming background, so it's all new to me. I ask questions viewers would, like: 'Why does a vet put his hand up the bum of a cow?'
"On Emmerdale, there were animals in the backdrop but very rarely did we interact with them. I don't even own a pair of wellies. Every day on shoots in muddy fields they've had to provide wellies for me. That's pretty shocking, isn't it? I need to get myself a pair!"
TVT: What else will you be up to during the series?
KF: "I'm a roving presenter, out there meeting people, and I'll also spend a few days in the studio based at Cannon Hall Farm in Barnsley with the rest of the gang. I've not delivered any lambs this year, but I've visited a free-range chicken farm in North Yorkshire and have also been scanning pregnant cows
TVT: How did you find being with the pregnant cows?
KF: "The equipment the vet uses is fascinating. They have a probe they put up the backside and these goggles on and the images were projected onto a screen which meant we could see what he was seeing. It's like a baby scan, you can see the feet, the head of the calf and the vet can dictate from that when he can expect the cow to calve."
TVT: Do you worry about the future of farming at all?
KF: "Yes, I think there is a concern from the farmers I spoke to last year. They had concerns about the way food was being produced, the supermarkets were driving the prices so low. As a nation we're used to paying such small prices for our milk, butter, our bread. Once you see the hard work that goes into producing them all you realise how we've been spoilt for so long."
TVT: Has it affected how you think when you buy food?
KF: "I guess it has. Just recently I was on a free-range chicken farm and I took home some of the eggs and I can honestly say they were the best eggs I've ever had. I made myself poached eggs and I thought next time I buy my eggs I'm going to try and buy them from the farm shop down the road. I hadn't realised before that when you get them from a supermarket they are at least two weeks old and they've probably got another two weeks remaining on the shelves."
TVT: What else have you learnt from doing the show?
KF: "It's been fascinating to discover that farm animals have personalities. You expect people and pets to have personalities but you wouldn't really assume cows, sheep and chickens do, but they really do. I met a farmer who had 6,000 hens and he could single out individual hens. It was amazing!"
Springtime On The Farm begins on Channel 5 on Monday at 8pm.
With twenty years of experience as an entertainment journalist, Elaine writes for What's on TV, TV Times, TV & Satellite Week and www.whattowatch.com covering a variety of programs from gardening and wildlife to documentaries and drama.
As well as active involvement in the WTW family's social media accounts, she has been known to get chatty on the red carpet and wander into the odd podcast.
After a day of previewing TV, writing about TV and interviewing TV stars, Elaine likes nothing than to relax… by watching TV.
Get the latest updates, reviews and unmissable series to watch and more!
Thank you for signing up to Whattowatch. You will receive a verification email shortly.
There was a problem. Please refresh the page and try again.