Sir Lenny Henry reveals his all-time favourite Comic Relief moments! 'The live shows are chaos!'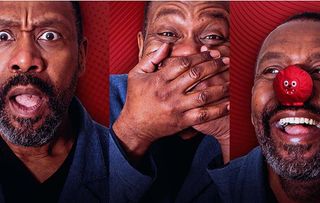 (Image credit: BBC)
Sir Lenny wants to see the Four Weddings sequel...
Sir Lenny Henry has said that the live shows always "whizz by" ahead of tonight's Comic Relief extravaganza on BBC1.
The 60-year-old star loves the "chaos" of the mammoth event, and he added he has a stack of favourite memories.
"The live shows are chaos [and] seem to whizz by. Even though they last hours!," said Lenny.
"But my many memories include myself and Davina dressed as showgirls live on television… Jack Dee balanced on a pole for the most of the night… Celebrity Big Brother, which we invented, was extraordinary… running on stage during a Boyzone song and picking them all up… there have been so many events for Comic Relief that I'm so proud to have been a part of. Working with Richard Curtis is a joy always.
"When we do the live show he locks himself in a room, watching on lots of different screens, fretting about fundraising."
So, what's Sir Lenny looking forward to seeing tonight as all the fun kicks off at 7pm this evening on BBC1?
"One Red Nose Day And A Wedding! That's going to be fun. Richard Curtis has paid me money to say that. Famalam are also on… I've been watching their show online, it's so funny. The whole mob is going to be here!
"Red Nose Day is a bit like a comedy family reunion. I love the vibe in the live studio. Even when people are being noisy! Eating crisps too loudly! No loud chewing in the studio, please!"
Sir Lenny is Honorary Life President of Comic Relief and it's a very important part of his life.
"Hopefully it's not just important to me, it's important to everybody. People want to feel like they're part of something, they want to collaborate and join in. If we all do something, we can make a change to the world. Comic Relief is important to me, because it's something that's been a huge part of my life since my late twenties."
Comic Relief, which supports project around the world, is on BBC1 from 7pm this evening.
Get the latest updates, reviews and unmissable series to watch and more!
Thank you for signing up to Whattowatch. You will receive a verification email shortly.
There was a problem. Please refresh the page and try again.