Soap stars Shobna Gulati, Shane Richie and Lucy Taggart win big phone hacking payouts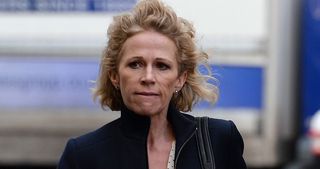 (Image credit: PA Wire/Press Association Images)
Ex EastEnders star Lucy Taggart and ex Corrie Shobna Gulati have won £157,250 and £117,500 respectively, while Shane Richie has won £155,000, in their phone hacking action against Mirror Group Newspapers.
More than £1 million in damages has been awarded in total to the group of celebrities, including ex-England footballer Paul Gascoigne, who was awarded £188,250 at the High Court.
Mr Justice Mann also awarded £85,000 to TV executive Alan Yentob, £188,250 to ex footballer Paul Gascoigne and £260,000 to Sadie Frost.
Lawyers for the phone-hacking victims claimed today's payouts, totalling around £1.2 million, were 'unparalleled'.
Eight damages awards were decided after a three-week hearing in March to determine the extent of the wrongdoing to the group and what level of compensation was appropriate.
Lucy Taggart (Stefan Rousseau/PA)
Lucy Taggart, who was in court with Frost and Gulati, and played Lisa Fowler in EastEnders, said: "Nothing can take away or repair the damage that was caused to me both personally and professionally and the impact it had on my friends, family and relationships at that time.
"The damages, although welcome, can never repair the hurt that was caused.
"I hope this judgment sends the apppropriate message with regard to the behaviour of the tabloid press going forward and how they obtain stories."
Referring to her former EastEnders colleague and partner, she added: "I would like to thank Steve McFadden for his support during the trial."
The judge said the victims had all suffered a 'serious infringement of privacy' and the scale of hacking was 'very substantial indeed'.
Shobna Gulati (Chris Radburn/PA)
Shane Richie (Ian West/PA)
Speaking outside court, Frost said: "It has been a very difficult time and a time to reflect. I am relieved this is at an end and justice has been done."
Her solicitor, Mark Thomson of Atkins Thomson, said: "She is thrilled with the outcome of today.
Sadie Frost gives a statement to journalists (Andrew Matthews/PA)
"Whilst Sadie would have preferred not to have come to court to relive painful experiences, having been left with no option by MGN, she is relieved that the judge has recognised… the sustained and intrusive impact that MGN's repeated publication of her private information had on her life and her family.
"It was important for Sadie to bring an action against MGN in order to find out as much as possible about what had gone on. She accepts, reluctantly, that she will never know the full extent of the unlawful activities by MGN but is relieved to have finally found out that her private information was hacked rather than having been leaked by someone close to her.
"My client now wants to put this matter behind her."
In previous hearings, David Sherborne, counsel for the eight claimants, described hacking as 'rife' across all three of the group's national titles by mid-1999.
But MGN's counsel, Matthew Nicklin QC, said the claim that the victims suffered 'unparalleled' harm was wrong and there was no reason why compensation for distress caused by misuse of private information should go beyond that awarded in other types of litigation.
Earlier in the year, Trinity Mirror published a 'sincere and unreserved' apology for the voicemail interception, saying it 'was unlawful and should never have happened'.
In a trading update, it said the cost of resolving civil claims would be 'higher than previously envisaged' and it was increasing the provision for dealing with them by £8 million to £12 million.
Get the latest updates, reviews and unmissable series to watch and more!
Thank you for signing up to Whattowatch. You will receive a verification email shortly.
There was a problem. Please refresh the page and try again.