Spice Girl Mel B's daughter Phoenix Chi to appear in new Channel 4 doco series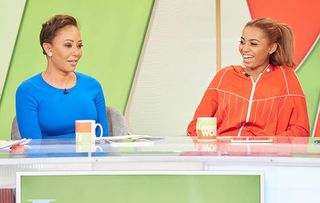 The offspring of famous faces including Spice Girl, Mel B and chef Gordon Ramsay are appearing in a new Channel 4 documentary series, Born Famous
What's it like being the son or daughter of a famous celebrity? Is every day full of amazing luxury adventures? Can you afford to buy exactly what you want?
Well, NOT in Channel 4's forthcoming new documentary series, Born Famous, which features four teenagers with celebrity parents, who will discover what life would have been like if their mum or dad hadn't found fame and fortune...
The line-up includes Gordon Ramsay's son Jack, Mel B's daughter Phoenix Chi, Bethany Mone whose mum is millionaire Ultimo founder Michelle Mone and Ria Ince, the daughter of former Manchester United and England football captain Paul Ince.
Each of the famous teenagers will be paired with a local teenager as they explore the areas of the UK where their now famous mum or dad grew-up, while investigating issues surrounding privilege, class and celebrity. And ultimately questioning, could their parents have still made it in today's Britain? Are the same opportunities their parents had still available to teenagers in 2018?
Jack will be packing his bags and living in Bretch Hill, Oxfordshire where his chef dad lived as a teenager, while Phoenix Chi will explore Hyde Park, Leeds where her Spice Girl mum Mel's origins lie.
https://youtu.be/yECVY5zqDmo
Meanwhile, Bethany will be sent packing to the East End of Glasgow and Ria will live in Dagenham, Essex.
"We're hugely excited to be making this inspiring series which shows some of our biggest celebrities in a way you have never seen, through the eyes of their teenage children," says Born Famous co-Executive Producer Helen Cooke. "It promises to be compelling TV as the famous teens come to terms with their own privilege, whilst delivering searingly honest accounts of what it is like for young people growing up in Britain today."
Born Famous will be shown on Channel 4 at a later date
Get the latest updates, reviews and unmissable series to watch and more!
Thank you for signing up to Whattowatch. You will receive a verification email shortly.
There was a problem. Please refresh the page and try again.