*Spoilers*: In The Club midwife Vicky CLEARED over new mum's death!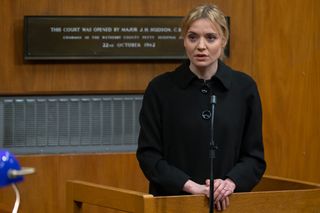 (Image credit: BBC/Rollem)
There was good news for midwife Vicky Brierly in Tuesday night's episode of In The Club when a Coroner ruled that she was NOT guilty of neglecting a new mum and causing her death.
Vicky, played by Christine Bottomley, was horrified a few weeks ago when, after a seemingly straightforward birth, she found that new mum, Helen, had died!
Vicky had been trying to juggle working long hours with raising her son, Ben, single-handedly. So when the tragedy occurred, the devoted midwife started questioning herself, wondering whether she did everything she could to prevent it.
Vicky was temporarily suspended and, in the latest episode, found herself in court as a Coroner's inquest was held to determine if she was responsible for Helen's death.
Although her friends were in court to support her, it began to look like the odds were stacked against Vicky as various witnesses were called to give evidence.
First, it was revealed that friend and colleague, Geraldine, had suggested Vicky could have been 'distracted' by her son being brought onto the ward. Then, Helen's grieving husband, Gareth (played by ex-EastEnder Jack Ryder), accused her of being drunk!
Vicky was relieved, however, when the Coroner ruled that Helen had died of natural causes and, therefore, Vicky had done nothing wrong.
Despite being cleared of any wrongdoing, Vicky's learned a lot from the experience, revealed actress Christine. "Because it's been a sad time, Vicky had been drinking too much," she said. "She wasn't drunk when the incident occurred but this whole thing has made her question just how much she has been drinking and she now knows that needs to change."
Christine's hopeful that Vicky can resume normal life following her ordeal. "Vicky's someone who can pick herself up," said Christine. "She's a do-er and a go-getter so, hopefully, fingers crossed she'll be OK."
The fact is, Vicky found herself in this situation because she was trying to do TOO much. While Christine's mindful that In The Club is a drama, it does depict the realities for many midwives up and down the country and highlights just how stretched the NHS is.
"I salute our midwives," said Christine. "I think they do such a formidable job and, unfortunately, we have a government at the moment that don't support our NHS. I think that's terrible."
In The Club continues Tuesdays at 9pm on BBC1.
Get the latest updates, reviews and unmissable series to watch and more!
Thank you for signing up to Whattowatch. You will receive a verification email shortly.
There was a problem. Please refresh the page and try again.