Stephen Fry: There's a 'huge moral difference' between my drug abuse and Savile's sex crimes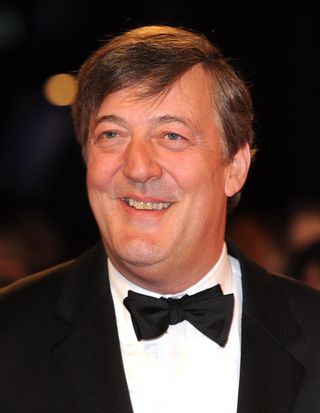 There is a 'huge moral difference' between historic sex and drug crimes, actor Stephen Fry says.
He accepted some people believed he should be arrested for the drug abuse he wrote about in his latest memoirs.
But he insisted: "I'm the only person I hurt.
"I do personally see a huge moral difference between invading somebody's physical space, raping them, groping them against their will, having sex with when they're under-age, and me feeding my face with stuff that did me harm."
Asked about the going back over of historic sex cases in an interview with BBC's Newsnight, the comedian denounced Jimmy Savile as an 'absolutely monstrous, depraved and repulsive piece of work'.
But he stressed: "Suddenly, everyone isn't Jimmy Savile just because they may have patted somebody's bottom, you know?"
And he accused the BBC, politicians, the police and society more generally of turning on the same class of person because they were so 'horrified' by their own lack of judgement in supporting Savile and allowing him access.
Fry went on: "Almost uniquely, it's disc jockeys and light comedians who are the ones who have been accused.
"If you want to talk about rock stars, do we have to name the rock stars that we think almost certainly had sex with 14-year-old children?
"But those 14-year-old girls were so proud of it that they now, in their fifties, wouldn't for a minute call themselves 'victims'."
Fry cautioned against labelling people as paedophiles too swiftly.
"If they're guilty then quite clearly there should (be) evidence ... but they shouldn't be hung out like fly paper to try to attract other... 'Oh yeah, I think he touched me too when I was that age...'"
Fry was also asked if he worried about accusations given the celebrity circle he mixed in during the 80s and 90s.
Fry replied: "I've always thought them pretty repulsive things to do.
"I've never groped anyone as far as I'm aware. But groping is not the same as penetrative rape.
"Again, things are nuanced, and it's pretty grotesque to grope, especially an under-age child who doesn't quite know what's happening to them.
"But it's not as grotesque as raping them. And the law has to be clear on that."
In his latest autobiography More Fool Me, the actor admits taking cocaine in Buckingham Palace at the height of his drug addiction.
He includes a long list of venues where he took the drug - the House of Commons, BBC Television Centre and various private members' clubs.
Fry has spoken openly in the past about his struggles with depression and a suicide attempt last year while filming a documentary about homophobia.
Get the latest updates, reviews and unmissable series to watch and more!
Thank you for signing up to Whattowatch. You will receive a verification email shortly.
There was a problem. Please refresh the page and try again.