'Steve Coogan's my hero!' - James Buckley welcomes his comedy idol to the wonderful world of Zapped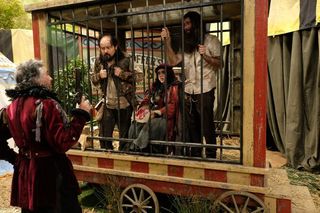 (Image credit: OLLIE UPTON 07973909063)
Acting alongside his hero Steve Coogan in the new series of fantasy-comedy Zapped was a dream come true for Inbetweeners star James Buckley. If he could just keep a straight face...
Comedy legend Steve Coogan joins the cast in episode one of the new run of Zapped as a circus impresario who has captured hapless office worker Brian (James Buckley) and is displaying him as an exhibit in his travelling show.
We joined James in Brian's local  - "The Jug and the Other Jug", where the locals include fairies, a soothsayer and a wizard – for a cheeky "Rhubarb Seizure" and a chat, to find out what's in store...
James, what was it like appearing with Steve Coogan in the new series of Zapped?
James Buckley: "He's my hero, so I was trying my hardest to keep it together! I just kept laughing because everything he was doing was so funny."
In episode one we see your character Brian sporting a long, shaggy beard. Was that uncomfortable to wear?
JB: "Paul [Kaye, who plays Howell the wizard] has to wear one all the time, and I hated it! It feels like tiny little hands pulling your face all day long, so I wasn't that ecstatic. But it looks good and most of my scenes with that look were with Steve, so I didn't mind."
We also see Brian is being pursued while running full-pelt through a forest. What was that like to film?
JB: "We had such a good summer, but that was the one day it started to rain! It's a bit self-indulgent – me running through the woods pretending I'm Rambo…"
Apart from Steve Coogan, what other guest stars will we be seeing?
JB: "Sally Phillips is back as Slasher Morgan. Then there's Felicity Montagu, Rich Fulcher, Clive Russell, Mark Heap – it's really exciting."
The third series of fantasy-comedy Zapped starts on Dave on Wednesday 17th October at 10pm, and will be available on catch-up on UKTV Play.
Get the latest updates, reviews and unmissable series to watch and more!
Thank you for signing up to Whattowatch. You will receive a verification email shortly.
There was a problem. Please refresh the page and try again.