Steve Cram: 'I can't see anyone beating Mo Farah at the World Championships'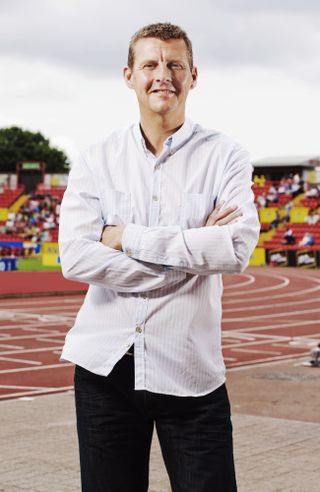 (Image credit: BBC)
As the World Athletics Championships get underway in Beijing this Saturday (BBC2), we spoke to former world 1500m champion and BBC commentator Steve Cram about his tips for success there…
What's it like to be back at the famous Bird's Nest stadium in Beijing? Will being there bring the best out of athletes?
"I have been back there a couple of times since the Olympics in 2008, but I'm looking forward to it because it's a brilliant venue, so different from anything seen before. It will be better this time for athletics because at the Olympics you get a crowd that just want to be there because it's the Olympics. But for the World Championships you'll get a slightly more athletics knowledgeable crowd."
In terms of big British hopes, do you think we're looking at the three gold medal hopes from London – hepthatlete Jessica Ennis-Hill, long jumper Greg Rutherford and distance man Mo Farah?
"They are our stand-out hopes I'd say, but I'm hoping we'll win six to eight medals in Beijing this time which is where we've been at the last few major championships. There'll be one or two new surprises I think. We've got this young guy called Zharnel Hughes in the 200m and he's now in the world's top five or six and he's certainly improving all the time. He's at his first major championships and getting better, so he'll be in with a chance of picking up a medal. Our relays will do well, as will Laura Muir in the women's 1500m – she's had a great season so far."
One of Jessica's big rivals in the hepthatlon is British...
"Yes Katarina Johnson-Thompson will be pushing her all the way, along with the Canadian athlete who's probably favourite. Katarina may even be ahead of Jess at the moment.
"Jess knows that even she's not in the same form as at the Olympics, but close enough to it she'll have a good chance of winning, and she is getting close to her Olympic form now in some events. The key will be the high jump, which I think will determine where the medals go. Both the Brits are great high jumpers so both will hope to get a big lead over the Canadian favourite on that event."
Mo Farah is running well at the moment. Do you think he's the sort of athlete who can put any distractions behind him and get on with the job in hand?
"Yeah he's already done that. His last couple of races have seen him in great shape. His 10,000m is the first weekend and it's really important for the British team that Mo does well as it's a lift for them if we win a gold in the first couple of days, which I think he will do. I just can't see anyone else being good enough to beat him, particularly in the 10,000m."
Christine Ohuruogu won her 400m Olympic Gold in that stadium in Beijing. Will this give her a lift and give her a chance again?
"That's a good question because I think a lot of people have overlooked Christine. She's been improving, although she's had a couple of niggly problems and taken her time in getting back to form. The women's 400m is missing a few this year, particularly current Olympic champ Sanya Richards-Ross who messed up the American trials, so it's quite an open race I'd say. It's the perfect scenario for Christine to step up, it's just a case of whether she's still got the speed in her legs."
In the men's sprints, can you see anyone else beating Jamaican superstar Usain Bolt?
"I actually think America's Justin Gatlin is the favourite this time, but I think Bolt has showed enough recently that he can certainly be competitive. He's had a lot of problems this year, but he's the only athlete I can see who will give Gatlin a run for his money. Bolt probably hasn't raced enough this year. The pair haven't gone head to head this year so the 100m could be the highlight of the World Championships."
Your old event is the 1500m - how do you see that going this year? Any good British chances?
"In the men's 1500m Kiproch of Kenya has been doing brilliantly this year. He can sometimes get it wrong tactically and the finals are nearly always tactical! Britain has Charlie Grice and Chris O'Hare, who if they can get into the final can definitely compete tactically. Chris showed that when he got a medal at the Europeans last year.
"The women's race was thrown apart when the Ethiopian athlete Dibaba broke the world record a few weeks back in Monaco, and she's said she's doing both the 1500m and 5000m. There are two British girls Laura Muir and Laura Weightman who I coach and picked up medals at the Europeans and Commonwealths last year. I hope the two Lauras can get to the final and you never know what happens then."
When you're commentating and looking at the races, does a part of you long to be back on the track competing in big events like this?
"Not any more. I used to, and occasionally I do especially getting a buzz at big events like this and when the 1500m is being run. It's probably more so when I go up to the 'holding camp' beforehand and I'm up there as a coach, but I'm wishing I was running. That's the hardest time."
Do you still run most days to keep fit?
"I've been running a reasonable amount this year. I've pulled a hamstring though, which I aggravated last weekend on the dancefloor at a wedding when I was busting some moves. But that's the thing with old age, you can't do some of the things you used to do. I'm slowing down and getting less flexible!
"Running is just the easiest way for me to keep fit, especially when I'm travelling so much. Just put your running shows in your bag and away you go… It's also very social. I go out running with a lot of old friends. We're all slower and a lot fatter than we used to be!"
The World Athletics Championships will be exclusively live on the BBC across TV, radio and online from Saturday, August 22
Get the latest updates, reviews and unmissable series to watch and more!
Thank you for signing up to Whattowatch. You will receive a verification email shortly.
There was a problem. Please refresh the page and try again.