Stranger danger – Katherine Jenkins praises police in stalking debate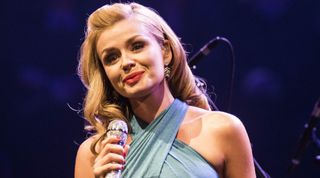 Katherine Jenkins has revealed her own stalking terror in the light of Lily Allen's traumatic experience, but praised the police for their support.
"Where I live in south west London, the police are amazing and have always said 'Just let us know if you need help and keep in touch'," she told The Sun.
"They always say they will do whatever they can. I have never felt let down by them. I only have positive things to say about them."
Katherine Jenkins (Yui Mok/PA)
Katherine, 35, said she was frightened when a stranger accessed her dressing room while she was inside. She went on to detail the encounter, during which the man asked after her sister and said he'd brought the Welsh soprano a gift.
"I think that it's really sad," she said. "There are people who genuinely think they are your friend."
However Smile singer Lily accused the police of 'victim-shaming' her after she spoke out about being dissatisfied with their response to her stalking case.
Lily Allen has talked about her stalking hell (Ian West/PA)
In an interview with BBC Newsnight, she read out an email she had received from a Met officer who said that the 'high-profile' nature of her claims could discourage other victims from coming forward.
She told presenter Kirsty Wark: "I think it's victim-shaming and victim-blaming."
Lily, 30, revealed her seven-year ordeal at the hands of stalker Alex Gray, also 30, in an interview with The Observer on Sunday where she detailed the time he had burst into her home while she and her children were sleeping, had threatened to stab her through the face and spent nights hiding in her garden.
Lily Allen (Sue Moore/PA)
Gray was charged with burglary after he broke into Allen's bedroom in October last year. He was convicted at Harrow Crown Court this month and will be sentenced in May.
Get the latest updates, reviews and unmissable series to watch and more!
Thank you for signing up to Whattowatch. You will receive a verification email shortly.
There was a problem. Please refresh the page and try again.