Strictly's Katya Jones reveals she has put partner Ed Balls on a diet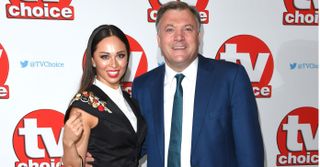 Ed Balls has been told he must cut carbs and alcohol if he wants Strictly success. The former Shadow Chancellor is being put through his paces in gruelling seven hour sessions with partner Katya Jones.
Strictly contestant and former Shadow Chancellor Ed Balls has reportedly been put on a diet by his dance partner Katya Jones.
Ed has already compared his dancing to that of a "slug" - but Strictly newbie Katya says she has put the Labour politician on a carb-free diet and banned him from drinking any booze in a bid to up his fitness level.
The Russian-born pro has also been keeping Ed busy with seven-hour training sessions most days in the hopes of lifting the prestigious 'Glitterball' trophy at the end of the series.
Katya even says Ed's belly gives the couple an advantage as it is good for their connection on the dance floor.
In an interview with The Sun, Katya said: "It was quite funny that after the launch show we met at the after-drinks and we were just chatting and he turned round to the bar and had a sip of beer.
"I said, 'What's that?' He said: 'What?' I said, 'In your hand, that beer. That's your last one.' He felt guilty and looked at me. I told him it starts right now.
"He has a big belly at the moment but it's good for our close connection."
Ed has already admitted he has the grace of "a slug" and described watching the replays of the Strictly launch show as "pretty traumatic".
But Katya insists Ed has potential. She said: "Ed's got rhythm, he can play piano and do his counting from that. [His family] keep telling me work him really hard. He's really determined and he won't ever give up.
"Dancing is such a hard exercise and as long as we keep at it that's going to happen. He's quite worn out every day.
"I'm sure he'll be getting thin."
Strictly Come Dancing's first live show is on BBC1 next Friday.
Get the What to Watch Newsletter
The latest updates, reviews and unmissable series to watch and more!