Survivor Claire's departure has fans raging as a woman is axed again
On Survivor, Claire's lack of challenge participation made her an easy target, and fans aren't happy about it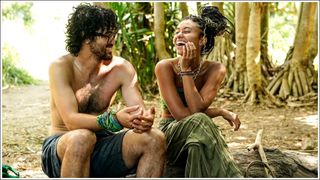 (Image credit: ROBERT VOETS/CBS)
Yes, yet another woman has been voted off Survivor: Claire sitting out of an immunity challenge proved to be the kiss of death for the 25-year-old tech investor, as her Soka tribemates used her absence to fix a target on her back.
At the beginning of Wednesday's episode of Survivor season 44, it looked as though the Soka clan would be setting their sights on this season's lovebirds, Matt and Frannie. "Matt and Frannie go off alone all the time, they're like two nerdy people that just like to nerd out," Claire said. "It's a huge liability for four other people in the tribe to be looking and saying, 'Oh those two, they're a duo.'"
However, things were looking up for the twosome when Matt seemingly discovered the key to the birdcage and thus took possession of the immunity idol... except it was a fake that Danny, who had found the real one, had hidden in plain sight to get his tribemates off his tail. However, nobody but Danny knew that it was a dummy idol, and thus dubbed Matt and Frannie "no longer easy targets."
When it came to immunity challenge time, however, Claire proved an easy mark after choosing to sit out of competing for the third time, reasoning that it was in the best interest of the tribe. Ratu and Tika win immunity, sending Soka to the Tribal Council for the first time this season.
"I feel terrible because I love Claire...but you do have to form a camaraderie in these challenges," Danny said. "Who hasn't done any challenges and who doesn't seem like they're gonna be useful in challenges?"
Despite Claire trying to turn Heidi against "cagey" Josh to vote him out instead and using her Shot in the Dark during the Tribal Council, Claire ends up being the fourth person eliminated from the Survivor season 44 cast—much to fans' chagrin.
That's because, other than the early medical evacuation of competitor Bruce Perreault, so far this season's "boot order"—the list of tribemates who have been eliminated each episode—has followed a troubling trend from Survivor season 43: the first players voted out are women, with Claire Rafson joining Maddy Pomilla and Helen Li.
Survivor's Claire is the latest in a 'tragic' trend, fans say:
Viewers took to Twitter to discuss the worrying trend, with many criticizing the season's three-tribe structure for making it easy to target the women players ("queen after queen robbed!" one user wrote) and others hoping that Claire would be able to return in a future season:
Get the What to Watch Newsletter
The latest updates, reviews and unmissable series to watch and more!
Christina Izzo is the Deputy Editor of My Imperfect Life. More generally, she is a writer-editor covering food and drink, travel, lifestyle and culture in New York City. She was previously the Features Editor at Rachael Ray In Season and Reveal, as well as the Food & Drink Editor and chief restaurant critic at Time Out New York.
When she's not doing all that, she can probably be found eating cheese somewhere.