Meet the Survivor season 44 cast: who's been eliminated
Get to know the 18 castaways of Survivor season 44.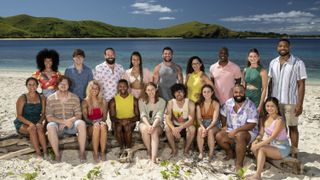 (Image credit: Robert Voets/CBS)
Eighteen individuals arrived on the island in Fiji, but only one is going to get to leave as a Survivor champion. Survivor season 44 sees a new batch of contestants ready to try and outwit, outplay and outlast each other as they compete for a $1 million prize on the long-running CBS reality series.
Leading the way for Survivor, as he has since the very beginning, is host Jeff Probst. Probst assured fans are going to see the social dynamics of alliances and betrayals that have become standard for the series as well as the first Survivor "showmance" (opens in new tab) in a number of years.
Speaking with Entertainment Weekly (opens in new tab), Probst said of the cast: "This group definitely came to play the game, and here's the truth about Survivor — great players make for great seasons. It's really that simple. I think we got it right this time!"
So, without further ado, let's meet the Survivor season 44 cast, who's left and who has already been eliminated (SPOILER ALERT).
Yamil "Yam Yam" Arocho (Tika)
Yamil, who goes by the nickname "Yam Yam," is a salon owner from Puerto Rico. In his Survivor intro interview, he admits that the humidity in Fiji sucks, but he's used to it from Puerto Rico, which he thinks can give him an advantage. He also thinks his experience working in a salon is going to help him be able to connect with people.
Matt Blankinship (Soka)
A security software engineer from San Francisco, Matt describes his job as kind of a digital bank robber (who then helps his employer figure out what they need to improve on). He thinks he can use those skills to notice and exploit small details in the other players to "cause mayhem."
Brandon Cottom (Ratu)
Brandon works now as a security specialist for a company in Newton, Pa., but he is no stranger to high intensity competitions, having played in the NFL for the Seattle Seahawks. That will make him a strong contender in the physical aspects of the game, but also feels like when people get to know him they'll enjoy his positive and fun attitude.
Kane Fritzler (Ratu)
Kane is ready to represent Canada in Survivor. The recent law school grad from Saskatchewan openly says he can remind people of a Sasquatch with his big body and goofy personality, but he is taking this game seriously. For him, the $1 million prize is secondary, he wants the title of "Sole Survivor."
Carson Garrett (Tika)
Survivor season 44's youngest contestant Carson is a rocket scientist, or at least he will be. This Georgia Tech student has plans to hide a bit in the background at the start of the game, but hopefully by the end he is in a position to be a puppet master influencing how critical votes go. Fun fact, Survivor is actually older than Carson.
Matthew Grinstead-Mayle (Ratu)
Hailing from Columbus, Ohio, Matthew is a barber shop owner who is on Survivor this season to win the $1 million and make his 4-year-old son's life better. He touts his ability to be adaptable as a key reason why he thinks he is going to have success amongst his fellow castaways.
Lauren Harpe (Ratu)
An elementary school teacher from Texas, Lauren is ready to school her fellow castaways who may underestimate her. This single mother of two is fully prepared to endure everything Survivor can throw at her to make sure that she comes out of the experience with some of the prize money.
Heidi Lagares-Greenblatt (Soka)
Heidi is a Puerto Rico native now working in Pittsburgh as an engineering manager. She is excited to join this new era of Survivor, following in the path of others that have inspired her like Sandra, the first two-time winner in Survivor history. Heidi wants to be the next contestant to inspire people.
Frannie Marin (Soka)
Frannie is a research coordinator from Cambridge, Mass. She joined Survivor to prove to herself that it is something she can handle. She thinks some of her strengths include staying calm as many things are going on and her zesty personality. She's ready to stab people in the back all while having a smile on her face.
Danny Massa (Soka)
Bronx native and New York firefighter Danny knows what it's like to have to live with a group of other people for extended periods with his time in the firehouse. He admits that coming into Survivor he is terrified, but he knows that so many of the best things in his life have terrified him, so he's excited to see what this new opportunity brings.
Jaime Lynn Ruiz (Ratu)
Jaime Lynn, a marketing associate/yogi from Mesa, Ariz., first used the things she saw on Survivor to help her succeed in her corporate job, but now she plans to use that corporate experience to help her dominate the competition on the reality show, with yoga and meditation also helping as her guiding light.
Carolyn Wiger (Tika)
Carolyn has been a long-time fan of Survivor, but it took the encouragement of her son to convince her to compete on the show. A drug counselor from Minnesota, Carolyn knows that overcoming her own addiction and being sober for 13 years means she can handle anything that comes her way.
Josh Wilder (Soka)
Having survived a kidney transplant and cancer, Survivor is just the next challenge for Josh and is confident that he can outlast all of his competition. A surgeon from Atlanta, Josh doesn't plan on sharing his profession to conceal how strategic he plans to be, especially as they may already see his athleticism as a threat.
Eliminated contestants
Bruce Perreault (Tika)
Bruce was the first castaway who left the game, but it was under unfortunate circumstances. After hitting his head in the first challenge for flint, Bruce was treated by the medical staff and deemed OK to continue. Unfortunately, later that night he began to feel lighthearted so the medical team decided that he needed to be removed from the game for further evaluations. While it stinks that Bruce's run ended so quickly and due to bad luck, the good news is his tests revealed he is recovering well.
Maddy Pomilla (Ratu)
The first person voted off of season 44 was Maddy. She and Brandon did not see eye to eye on what to do with the key for an unknown package the whole tribe was looking for. Brandon told the tribe, opened the package and received an immunity. When Ratu lost the immunity challenge, Maddy wanted Brandon and his immunity out. The tribe was on edge when it came to vote, so much that Jaime and Matthew played their shot in the darks and Brandon played his immunity. Neither Matthew or Jaime received any votes, though Jaime was the first contestant to pick the "safe" option, per Probst. Brandon received two votes, but his immunity threw them out. With Lauren using her Bank Vote advantage she earned earlier, Brandon's lone vote for Maddy was enough to knock her out of the game.
Helen Li (Tika)
The third person to leave Survivor was Helen Li. After losing the immunity challenge, it definitely looked Helen, Carson and Sarah (who did not have a vote after risking it in episode 1) were pushing for Carolyn to be the target, while Carolyn and Yam Yam wanted to go for Helen. However, Carson went to Carolyn and Yam Yam and said that he wanted to vote with them. No one knew which way Carson was going because he had appeared very tight with Helen and Sarah.
At tribal, Carolyn took the rise of not using her recently found immunity idol, but it didn't matter. Carson told the truth with her and Yam Yam, and they voted Helen out three to one (cast for Carolyn). Helen was disappointed but said she respected the strategy played by everyone. But what will Sarah think, knowing that it was Carson who switched sides to get her biggest ally out?
Claire Rafson (Soka)
Soka finally lost in an immunity challenge, so quickly all eyes turned to the only member of their tribe that has not competed in one, Claire. With someone always being required to sit out for even numbers, Claire was always that person for Soka. That drew the ire of some of her tribe members, who wonder why would they keep her around when she hasn't proven herself useful when it matters most. Claire tried to swing the vote around to Josh, who most in the tribe agree is hard to get to know. With Matt not being able to vote, it all seemingly came down to Heidi on who would be voted out. Unsure of the result, Claire took a shot in the dark at tribal, but it came up not safe. Her name was then read three straight times and she was sent home.
Sarah Wade (Tika)
Tika once again found itself on the losing end of an immunity challenge, but this isn't the same old Tika. After a twist in the game that swapped one player from each tribe, Carson was moved from Tika to Ratu, Jaime from Ratu to Soka and Josh from Soka to Tika. But with their forced move they were each given an immunity idol.
Unsurprisingly, some in Tika were immediately ready to vote Josh out, particularly Yam Yam. But when Yam Yam wants to use Carolyn as a decoy, she decides to team up with Josh rather than play second fiddle. He reveals that he has an immunity idol and if they stick together, they can get who they want. But rather than go after Yam Yam, they make Sarah their target. The plan works, as votes for Josh are eliminated after he plays his idol and Sarah is voted out.
Survivor season 44 airs new episodes of Wednesdays on CBS and streaming on Paramount Plus.
Get the What to Watch Newsletter
The latest updates, reviews and unmissable series to watch and more!
Michael Balderston is a DC-based entertainment and assistant managing editor for What to Watch, who has previously written about the TV and movies with TV Technology, Awards Circuit and regional publications. Spending most of his time watching new movies at the theater or classics on TCM, some of Michael's favorite movies include Casablanca, Moulin Rouge!, Silence of the Lambs, Children of Men, One Flew Over the Cuckoos Nest and Star Wars. On the TV side he enjoys Peaky Blinders, The Marvelous Mrs. Maisel, Saturday Night Live, Only Murders in the Building and is always up for a Seinfeld rerun. Follow on Letterboxd (opens in new tab).