Taboo star Tom Hardy hits out at modern action hero roles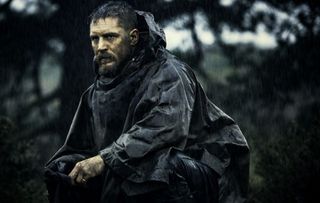 (Image credit: FX Networks / Robert Viglasky)
British film star Tom Hardy has hit out at modern action hero film roles, saying he finds them "boring" to play.
British actor Tom Hardy has hit out at modern action hero film roles, saying he finds them "boring" to play.
The Max Max: Fury Road star blasted the "homogenised sort of eight-pack, tanned, straight-teeth, physicalised, action-hero leading male" in an interview with the Sunday Times.
The Dark Knight Rises actor drew a distinction between Harrison Ford's 1980s Indiana Jones and Australian actor Chris Hemsworth's more recent portrayal of Thor in several Marvel Universe films.
Hollwood sex symbol Tom, who is currently on television screens in period drama Taboo, told the paper: "One was allowed to express personal characteristics … Now you've got to look like you've just come off a vegan diet, gone to the gym, part Navy Seal, really clean-valued, clean-living, moralistic – and then you go out and save the world from an impending danger that isn't really dangerous at all.
"And it becomes not committed to any sense of the gubbins of reality: I don't recognise this man."
Tom created Taboo with his writer father, Edward "Chips" Hardy, and it is being screened seven years after they came up with the idea.
Tom recently explained how filming Taboo proved to be more challenging than Oscar-winning Hollywood blockbuster The Revenant.
Ridley Scott is on board as executive producer and the script is by Steven Knight, the writer of Locke and Peaky Blinders.
Tom plays a rogue adventurer long believed to be dead in the drama which is set in 1814. His character, James Keziah Delaney, returns to London to inherit what is left of his father's shipping empire.
Episode two of Taboo is on next Saturday at 9:15pm. You can catch up on episode one on BBC iPlayer.
Get the latest updates, reviews and unmissable series to watch and more!
Thank you for signing up to Whattowatch. You will receive a verification email shortly.
There was a problem. Please refresh the page and try again.