Tom Hardy: Filming Taboo for BBC1 'was harder than The Revenant'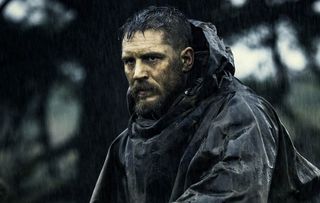 (Image credit: FX Networks / Robert Viglasky)
Peaky Blinders star Tom Hardy shakes up Saturday-night telly with gritty new period drama Taboo on BBC1
Tom Hardy doesn't make life easy for himself. Not only did he bulk up for roles in Warrior, Bronson and The Dark Knight Rises, but he insisted on playing both Kray brothers in crime thriller Legend and it was Tom, not a stuntman, who dangled upside down from a speeding rig in Mad Max: Fury Road. But the 39-year-old actor tells TV Times that his gritty new period drama Taboo, which begins on BBC1 on Saturday, January 7, has pushed him like never before.
Set in 1814, the eight-part drama follows rogue explorer James Delaney (Tom) as he returns home to London from Africa after 10 years to inherit his father's shipping empire. However, the powerful East India Company, led by Stuart Strange (Jonathan Pryce), are determined to get their hands on it and James soon discovers his father has left him a dangerous legacy.
Tom spoke to us in depth about the passion project…
James Delaney seems like a bit of a bad boy! "He's an unredeemable human being by any standard. In fact, in some ways, he's not much better than Saddam Hussein! He's come back home after a long time when everyone thinks he's dead. His character contains a lot of dark matter, but there is a symbolic world, a fantasy world and a real world in Taboo. We actually cover many genres, including fairytale horror and Gothic thriller, but we wanted to add our own signature on the legacy of period drama by adding a contemporary spin."
The drama is based on an original story written by your father, Chips Hardy. How did the idea come about? "I was filming Oliver Twist about 10 years ago, and while I was enjoying playing Bill Sikes, I also wanted to play Sherlock Holmes, Hannibal Lecter, Heathcliff and Jack the Ripper. So I came home from work one day and talked to Dad about amalgamating these characters, but into someone who's not just simply an anti-hero.
"We came up with the character and the concept there at the kitchen sink. I was a struggling actor at the time, but I was like, 'I could play this, couldn't I?' Dad was probably thinking he'd rather work with Robert De Niro!"
Do you enjoy playing troubled characters? "I enjoy the paradox of the human condition, rolling my sleeves up and becoming immersed in something interesting, and asking myself, 'What's going on there? What's beneath this rock? What's around that corner?' I like investigating matters that worry or perturb me and to find a different perspective on it."
You've also joined forces with legendary filmmaker Ridley Scott to exec-produce the show… "Dad and I started the ball rolling, but when Ridley Scott and also Steven Knight [Peaky Blinders creator] came on board with their unique voices and input, it became much more of a collaboration as our idea was polished and changed. Ridley is a huge talent, too. He's one of the best-known director/producers of our generation.
"But it did start from my father and me wanting to do something together, so it has been very much a personal journey, and I found shooting this harder than The Revenant because I had a lot of responsibility. The Revenant was about having to endure the cold and look after my part as an actor, but on Taboo, about five per cent of my working day was acting."
Are there more series to come? "There are all sorts of options with the Delaney family tree – the characters, the world and the mythology. We could go further back into the past, or 100 years into the future… We've lit the fuse so we can't walk away!"
Taboo begins on BBC1 on Saturday, January 7 at 9.15pm
Get the What to Watch Newsletter
The latest updates, reviews and unmissable series to watch and more!
Senior Writer for TV Times, TV & Satellite Week, What's On TV and whattowatch.com
Rebecca has more than 20 years' experience in journalism and is now writing about all things telly-related for TV Times, TV&Satellite Week, What's On TV and whattowatch.com.
She's interviewed all sorts of big-name stars, including Al Pacino, Ewan McGregor, Tom Hardy, Winona Ryder, Benedict Cumberbatch and more. She's also been known to step in front of the camera, dressing up as a 1920s flapper to star in ITV's Mr Selfridge and co-hosting ITV News at Ten with Mark Austin – all in the line of duty!
When she's not quizzing actors, directors and producers, you'll find her bingeing US dramas and anything horror/sci-fi/zombie-themed. But her greatest love will always be Game of Thrones… just don't mention the ending!