The 17 Greatest Talent Show Judges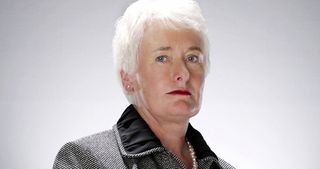 (Image credit: TALKBACK/BBC)
It's finally here! Tomorrow, on ITV, we welcome back The X Factor, and the return of Cheryl Fernandez Versini and new judge Mel B. We can't wait to see them in action on the panel. To celebrate, we've compiled the definitive list of the most brilliant and outrageous talent show judges, from Margaret Mountford to RuPaul. Have we missed anybody? Let us know!
Margaret Mountford - The Apprentice
While we love Karren Brady, we can't help but yearn for Mags Mountford. The original, silver-haired Apprentice matriarch had us hooked for five series, with her icy glares, wry comments and trademark red lipstick. We're now left counting down the episodes until 'interview week' when the buxom businesswoman grills the finalists in her acerbic fashion.
Naomi Campbell - The Face
Never did we think we'd find Margaret Mountford and Naomi Campbell in the same list, but here they are, side by side. Our favourite supermodel (Naomi, not Margaret) was the perfect choice to front The Face and show the girls the ropes. Anybody who dared argue was suitably shouted down and she gave us some great comedy moments, too.
Sharon Osbourne – X Factor
If you're married to Ozzy Osbourne then you're probably used to wearing the trousers, and Mrs O took no prisoners when she joined the original judging panel in 2004 (and again in 2013 after a six year break). However, her acid tongue was mainly reserved for fellow judge Danni Minogue, describing working with her as 'unbearable', 'intolerable' and 'an odious chore'. Oof!
Craig Revel Horwood - Strictly Come Dancing
http://youtube.com/v/jxy7kAt6Uw4
Fab... You... Less! Our favourite Strictly judge will return to our screens next week and we absolutely cannot wait. He's given us some of the best quips this side of the Atlantic and he takes no prisoners when it comes to judging the celebrity contestants. "The only good thing about that darling, was the end." Need we say more?
Alesha Dixon – Britain's Got Talent
In 2009, Alesha won BBC's Strictly Come Dancing and is currently the most successful contestant to ever take part, with an average score of 36.5 out of 40 over the series. This led to a stint on the judging panel (replacing a none too happy Arlene Phillips), before she was poached by eagle-eyed Simon Cowell to join the BGT panel in 2012. Did we mention she is also a singer, rapper, model and mum of one? We're exhausted thinking about it.
Mary Berry - The Great British Bake-Off
Sure you're hoping that silver fox Paul Hollywood will like the taste of your muffins (ooh err), but everyone knows it's judge Mary Berry you've got to impress to get through to the final of GBBO. With over 60 years experience in the kitchen she makes a formidable judge.
RuPaul - RuPaul's Drag Race
The search for America's next drag superstar wouldn't exist without host and mentor, RuPaul. Serving realness for six seasons, she's given us a million catchphrases and a thousand looks. She's a pioneer for equality and has introduced us to some of the most outrageous reality TV contestants of all time. Shanté, you definitely stay.
Jason Gardiner - Dancing on Ice
Things got a little hot under the collar (and that's saying something considering the Dancing on Ice studio must be blumming freezing) when chorographer Karen Barber confronted steely eyed Jason Gardner over his harsh criticism of ex-soldier Johnson Beharry's performance. Unfortunately, host Holly Willoughby broke them up before things got interesting. Spoil sport.
David Gest – Grease is the Word
Please tell us that we are not the only ones to remember this incredible ITV talent show from 2007? We never got to the bottom of why David Gest was considered a suitable judge for the (only) series of this talent show, but that's exactly why it was so brilliant watching him choose which lucky couple would win the chance to star in a West End production of Grease. Oh Sinitta was also on the panel so that explains it. Not.
Kelly Rowland - The X Factor
http://youtube.com/v/zQqp4Wzp3I8
Kelly spiced up the judging panel when she joined in 2009, and in the absence of Cowell and Cole, worked hard to bring some life to a somewhat flat line-up. She fell in love with Gary, flirted with contestants, called in sick and gave us some incredible catchphrases that we still, to this day, use in the What's on TV office. Who knew you were doing up tempo? Owww!
Tyra Banks – Americas Next Top Model
http://youtube.com/v/yZhRz6DZSrM
The former Victoria's Secret model coined a new phrase during her time as a judge on ANTM with the word Smize. Smiling using not just your mouth, but your eyes. Oh sure. When Tyra does it she looks hot; she's a former supermodel. When we do it we look like we're in pain. Not fair!
Tulisa Contostavlos – The X Factor
Ohhh Tulisa, only 26 and you've already packed enough into your life to make Paris Hilton sack her publicists! After her annus horribilis in 2013, Tulisa's the comeback queen, returning this year to support Louis Walsh at the judges' houses stage. Personally, we can't wait to see her again, especially after she succeeded in mentoring the first ever group to win the competition, Little Mix, who are still churning out Number 1s today.
Nicki Minaj and Mariah Carey - American Idol
http://youtube.com/v/Ij3SnBaFHQc
When we heard that these two giant divas of pop were to appear on the same panel, we refused to believe it. They absolutely hated each other, which made for great TV: Mariah flicking her hair and rolling her eyes at the monotony of it all and Nicki turning up late in her pyjamas for live shows. Incredible.
Alexandra Burke - The X Factor
http://youtube.com/v/cQLZTDKpOIg
Now now, hear us out on this one. The 2008 winner might have only appeared on one show, temporarily replacing Kelly Rowland who'd phoned in sick, but anybody who can talk in website URLs on live television deserves a medal – or at least an honorary mention on our list. Okay dot com? Forward slash, thank you.
Will.i.am – The Voice
In his own words (probably) he's the super-dope, mega-fresh producer and rap artist that has mentored on The Voice for the past two series. Let's be honest, you either love him or loathe him, either way he's entertaining huh?
Simon Cowell - The X Factor
No talent show judge list would be complete without the Daddy himself, Mr Cowell. He's the self-branded Mr Nasty from Pop Idol, when he was challenged by then relatively unknown Will Young, and now he's finally returning to home shores for The X Factor. We can't wait to watch him roll his eyes and tell everybody in Britain that they're talentless. We're genuinely delighted. Aren't we? *hides behind sofa*


The X Factor premieres on ITV on Saturday, August 30 at 8pm; Strictly Come Dancing returns to BBC1 on Sunday, September 7.
Get the What to Watch Newsletter
The latest updates, reviews and unmissable series to watch and more!