The contestant who hopes The Voice will help her find her dad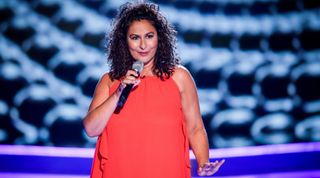 Contestants on The Voice usually only have one goal in mind when they audition for the show – to make it through to the final and win. But in tonight's round of blind auditions, one singer not only hopes to fulfil her dream of becoming a star, but will help to find her biological father, too.
Fifty-two year old Charley Birkin decided to enter the BBC singing series after discovering seven years ago that the man named on her birth certificate was not her biological father.
The singer from Newcastle Upon Tyne said she has been searching relentlessly and has exhausted every avenue.
Charley Birkin on The Voice (Guy Levy/BBC/Wall To Wall)
However, she hoped appearing on The Voice in front of the all-star judging panel of will.i.am, Boy George, Paloma Faith and Ricky Wilson will aid her search.
"I've spent so much money and got nowhere and I got really despondent," she told the Press Association.
Charley said her song choice, Fontella Bass's Rescue Me, is a tribute to her happy memories from the 1980s.
http://www.youtube.com/watch?v=uX9oUWHNGvg&feature=oembed
"It was a great song to get into because you have a short window of time to express what you are capable of and I love that song. It's a feel good song," she explained.
These days, Charley is a charity worker, but said she has always loved singing.
She became determined to make the music industry her career after winning a talent show at the age of nine.
The Voice coaches will.i.am, Boy George, Paloma Faith and Ricky Wilson (BBC/Wall to Wall)
At 15, she joined a band called Zoots Navarro and went on to tour the world with them.
Charley left the band when she was in her 30s, determined to focus on being a full-time mum.
"It wasn't until I had my son and became a more mature person and happier with myself that I questioned my paternity, and my mother just came clean and told me," she said.
The Voice coaches Ricky Wilson, Paloma Faith, Boy George and will.i.am (Guy Levy/Wall to Wall/BBC)
"And even though it was seven years ago and I had an inkling, it still cut through me, I can't describe to you how I felt.
"I suddenly felt lost, I didn't know who I was, where I came from, and the thing that hurt was there was a guy out there who was 50% of my genetic make-up and I didn't know him."
Brook Waddle on The Voice (Guy Levy/BBC/Wall To Wall)
In this third week of blind auditions, Charley will compete with pop star wannabes including bagel shop worker Lauren Lapsley-Browne, former Miss Saigon performer Irene Alano-Rhodes and Brook Waddle, the daughter of former England footballer Chris Waddle.
The Voice on BBC1 tonight (23 January) at 7.45pm.
Get the latest updates, reviews and unmissable series to watch and more!
Thank you for signing up to Whattowatch. You will receive a verification email shortly.
There was a problem. Please refresh the page and try again.