The Crown's Olivia Colman to make SHOCK cameo in unexpected TV show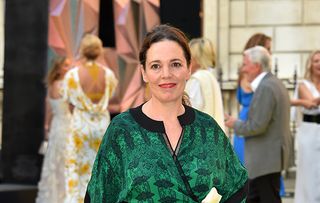 Olivia Colman is amazing in anything she turns her hand to, but the actress' latest cameo might leave you a little shocked.
The 45-year-old is the latest celebrity to make a guest appearance in The Simpsons. And the show's producer thinks it might be one of the best cameos of all time.
James L Brooks tweeted: "Just this second came from recording one of the best guest appearances in [Simpsons] history.
"No kidding, I am flying. Olivia [Colman] playing the most down home femme fatal(e) ever who attracts every man she's ever met but falls hard, harder than she ever imagined, for Homer Simpson."
With The Simpsons in its 31st series, producers are bringing in the big names to keep it fresh and exciting.
And Olivia is not the only celebrity to get involved as John Legend, Chrissy Teigan and Game of Thrones star Jason Momoa are all on board.
"He is the celebrity that shows up and talks about this legend of this saint who was ground up and martyred and became the origin of modern-day pistachio ice cream," the producer explained.
"He tells this very gruesome story – and then Patty and Selma want him to sign their boobs and he runs away."
Aside from seducing Homer Simpson, Olivia has been busy portraying Queen Elizabeth in hit Netflix show The Crown, which she recently revealed kept her on her toes as an actress.
Not only did she find taking over from Claire Foy "horrendous" - saying, "Everyone loves Claire Foy, so I have got the worst job in the world at the moment." The star also struggled with nailing the Queen's accent.
Despite having a BAFTA under her belt, Olivia found herself mimicking Claire.
"The first week, I did feel myself trying to do Claire impressions," she admtitted. 'What would she have done?'"
"Once you start going through it, you realise that every syllable in every word...you've got it wrong."
We can't wait to see!
Georgia normally writes across Woman & Home and Goodto specializing in all things royal. She has also written for What to Watch. Labeled the "Queen of the royals," Georgia knows exactly who's who and what's what when it comes to the monarchy. When she's not eagerly following the royal family, Georgia enjoys shopping and self-care. She lives with this motto in mind: "if your dreams don't scare you, they aren't big enough."
Thank you for signing up to Whattowatch. You will receive a verification email shortly.
There was a problem. Please refresh the page and try again.