The Durrells star Callum Woodhouse: 'I'm framing Leslie's shorts!'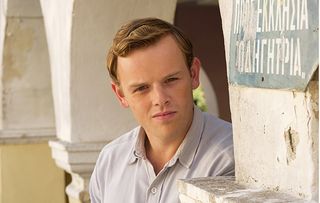 (Image credit: ITV)
Callum Woodhouse on saying goodbye to The Durrells
Leslie's had quite the coming of age story since The Durrells began - he's gone from toting guns to almost becoming a dad. But he's still very short-sighted: just look at his spectacularly flawed plan to get Louisa and Spiro together.
Here Callum Woodhouse, 25, reflects on his time filming in Corfu and reveals what's in store for Leslie as the series of The Durrells draws to a close....
What's still to come for Leslie this series?
Callum Woodhouse: "We will see Leslie join the Scouts and he absolutely loves it – he's in his element! He ends up being glad that he didn't become a father in the end. I've missed strutting around Corfu in the police uniform this year, but Lesley is always coming up with new weird things to do."
Will you stay in touch with your Durrells castmates?
CW: "I really think we will for the rest of our lives – within the first week we were all so tight and it felt like we had known each other our entire lives. Milo [Parker, who plays Gerry] was so small! We have a Durrells WhatsApp group but Josh [O'Connor, who plays Larry] never replies! [laughs] Saying that, it was really emotional filming the final scene together and there's something magical about us all being together, in costume, on set, that I will really miss."
Did you steal anything from the set?
CW: "I'm trying to take as much stuff as I possibly can. There's a rubber shotgun I'd love to have and I'm definitely going to keep Leslie's shorts, I want to frame them."
How has the show changed your life?
CW: "I remember at drama school, standing at the stage door waiting for autographs… the fact that people want to do that to us now is so baffling and humbling, it's an incredible feeling. People always ask why I don't have my guns with me! My mum loves it when I get recognised, honestly you only need to bump into her on the street and she'll give you the series 1-3 box set! And I learned to milk a goat – how often do you get to do that in life?"
What does the future hold for you?
CW: "It's exciting to think about what comes next, and to start auditioning again, but it's going to take a lot to beat this. It almost feels like I've peaked with my first job! It's been incredible and I got the part straight out of drama school, so it was perfect timing.I'd like to do something contemporary, maybe something in my own accent."
The Durrells continues on ITV this Sunday at 8.00pm.
Get the latest updates, reviews and unmissable series to watch and more!
Thank you for signing up to Whattowatch. You will receive a verification email shortly.
There was a problem. Please refresh the page and try again.