'The Expanse' will return for a sixth and final season
But Cas Anvar reportedly won't be on the crew any longer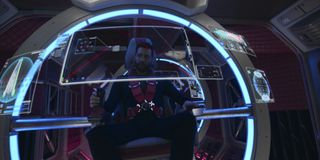 (Image credit: Amazon Studios)
We're a little less than a month away from the premiere of Season 5 of The Expanse on Amazon Prime Video — and the series has been renewed for a sixth season.
And apparently that will be the end of the journey.
Amazon officially announced that The Expanse Season 6 will be the final one.
From Andrew Kosove and Broderick Johnson, Co-CEOs and Co-Founders of Alcon Television Group, and Executive Producers of The Expanse:
"From the moment we committed to bringing this show to life up until this final season, we have worked tirelessly to honor the vision of the writers. We have prided ourselves on having one of the most diverse casts on television and giving a platform to stories that matter. A special thanks to Daniel Abraham and Ty Franck, the writers of both the books and series, and to Naren Shankar, the series showrunner and Executive Producer. It continues to be an honor and privilege to work with this team. We also would like to thank Amazon for their continuing support to help us tell this story in its fullest and to bring The Expanse to a global audience."
Meanwhile, Deadline reported that Cas Anvar, who played pilot Alex Kamal in the series — won't be returning. (He'd been accused over the summer of mistreating a number of women, and the studio behind the show launched an independent investigation.) 
"You can't stop the work." Season 6 is a go. pic.twitter.com/ayk93DChGmNovember 24, 2020
"We'd like to thank Naren, Andrew, Broderick, everyone at Alcon and the entire cast and crew of The Expanse for the hard work and love they have put into the series over these past seasons," Vernon Sanders, Co-Head of Television, Amazon Studios, said in a press release. "We're very happy we can give the incredibly loyal and passionate fans of The Expanse the satisfying conclusion to the series that they deserve. We know they'll love how Seasons Five and Six unfold."
Production on the final season reportedly will start in January 2021.
The Expanse spent its first three seasons on SYFY before being canceled, then resurrected by Amazon. It's based on the novels by James S.A. Corey and tells the story of humanity several hundred years into the future, where the solar system has been colonized. Earth and Luna (the moon) make up one faction, Mars another, and a more loosely organized group of "Belters" further out.
Season 5 of The Expanse debuts on Dec. 16 with a three-episode drop. New episodes will drop weekly after that before wrapping up on Feb. 3, 2021.
Get the latest updates, reviews and unmissable series to watch and more!
Thank you for signing up to Whattowatch. You will receive a verification email shortly.
There was a problem. Please refresh the page and try again.