The Getaway Car host Dermot O'Leary: 'Some drivers shout 'I hated you on X Factor!' at me'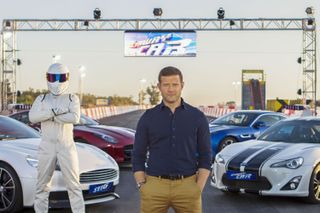 (Image credit: BBC/Charlie Sperring)
Former X Factor host Dermot O'Leary will be back on our screens in brand new gameshow The Getaway Car this weekend.
We caught up with him to talk about the new series, meeting The Stig and whether he bothered watching last year's X Factor…
You were out in South Africa filming this new series last autumn, did it feel strange not doing X Factor?

"It just was a bit weird doing something different while it was on. I enjoyed the final though, it felt nice though to just go to the fridge and get a drink and watch it with no stress whatsoever."
The ratings for the series weren't great though…

" It is nice to be missed, but it's a double-edged sword because your mates are still working on it and you want them to do well. "
It must have been good to get your Saturday nights back?

" Well yeah, I posted a picture on Instagram just of me out for dinner with some friends and a picture of my steak and a bottle of red wine saying 'my Saturday night starts right here'. "
Did you hear about Olly Murs' slip-up, where he mistakenly announced the result before the public vote?

" Well, I picked up on it on Twitter while I was away, but honestly the amount of times I've nearly done something like that! With the crowd cheering and the lights on you, it's not easy sometimes. "
So tell us about The Getaway Car…

" It's Total Wipeout for couples behind the wheel of a car! We have five teams of two people, couples, friends or relatives, and they must complete a range of challenges with one team going home after each round, until we're left with one pair who get to race The Stig, from Top Gear, for £10,000. "
http://www.youtube.com/watch?v=Ja1xLh4vKXs
What kind of challenges do they face?

" The first round is an obstacle course, except the driver is blindfolded and their partner has to direct them. It's crazy. Then we have rounds where they have to drive around and answer general knowledge questions and all kinds of stuff. We're billing it as the ultimate relationship road test. It's great to work on a show that doesn't take itself too seriously and where all the people on it don't take themselves too seriously… "
How do you think you and your wife would do on the blindfold obstacle challenge?

" Parts of it not too bad and other parts of it would be a disaster! "
What was it like meeting The Stig?

" He's so mysterious – he never takes off his helmet. There were only a few people on set who knew who he is, but the rest of us tried to work it out over the course of filming. One of the make-up girls thought she'd worked out who he was from the shape of his bum! But at one point I had to do a couple of laps and when I got out of the car he gave me a fist bump. I was over the moon! "
How good is The Stig?

" He's amazing. We give the winning couple a start and they collect more cash as they go around, but he catches them so fast. We had this kid who was about 19 and playing with his mum in her mid 50s and they'd got past the £6,000 mark and then he saw The Stig in his rearview mirror and he just panicked and crashed into the side. There's plastic everywhere, the front of the car is destroyed. We were like 'What have you done to our car!' They were worried we'd take the money off them as well – we're not that evil. "
Were you worried that couples might fall out?

" Yeah. But that's also the point of the show! "
No one's broken up, then?

" God I hope not! We had some people on there who've been together a long time as well. We had some people who are divorced, but are still good friends and have come along. We had two brothers on and one of them believed in the power of the universe to control his actions. The other was driving with a blindfold and screaming for directions, but his brother was waiting for the universe to direct him. The driver was shouting 'I don't care about the universe! Which way am I going?!' "
What are the three key things you need to do well?

" You have to be a half-decent driver, you've got to work well as a team and you can't be offended by what the person who you love most in the world might say to you! "
I suppose you do say things to people in the car you wouldn't usually…

" Well it's not even people who you know well, the way you speak to strangers in other cars is crazy! "
Do you see much road rage when you're out in your car?

" I think I'm a very conscientious and giving driver... yeah. "
Do people do a double take when they see you in the car?

" No it's even worse than that! They say 'I hated you on X Factor!' "
What else did you get up to in South Africa?

" I did a bit of surfing, which was fun. Everywhere you look there are big signs saying there are sharks in the water and we were surfing with a couple of guys who said 'what normally happens is, the sharks wait on the other side of the reef, so don't go that far out. Stay this side of the reef and you'll be fine, if you go over there you might get eaten.' You laugh and then you think 'that is serious, 20 yards that way there is a man-eating shark'. There were times when I looked one way and saw all these surfers and thought, well this is a lovely, lovely morning and a nice view of the sea and the sun, and then I noticed there was no one on the other side of me and I thought 'I'm on the edge!' and paddled back in pretty quick! "
Did the producers know about your surfing?

" No, I didn't mention it. "
The Getaway Car starts on Saturday, January 9 on BBC1
Get the latest updates, reviews and unmissable series to watch and more!
Thank you for signing up to Whattowatch. You will receive a verification email shortly.
There was a problem. Please refresh the page and try again.