The Masked Singer UK fans convinced Jacket Potato is an EastEnders star
The Masked Singer UK viewers can't agree which EastEnders star he is!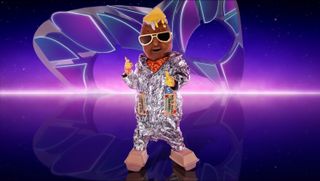 (Image credit: ITV Plc/Bandicoot TV)
The Masked Singer UK fans are convinced Jacket Potato is an EastEnders star.
They just can't agree which Walford regular he is!
In this evening's show, Jacket Potato took to the stage to sing the iconic Leonard Cohen song, Hallelujah.
He wowed the judges and the crowd, who were thrilled with his singing skills.
But at home the audience were divided about his identity.
While they were convinced he was an EastEnders star, the fans watching at home could not agree which Albert Square actor has donned the hilarious costume.
Some viewers were convinced Jacket Potato is Shane Richie.
He's certainly a contender. Shane's an all-round entertainer as well as playing Alfie Moon in EastEnders.
But while many fans were convinced that it's Alfie Moon hiding beneath the mask, others were equally sure that Jacket Potato is Brian Conley.
Brian is another EastEnders regular. He plays Rocky Cotton in the soap.
And like Shane Richie, he's an all-round entertainer and an accomplished singer.
And some fans couldn't make their minds up either way!
One viewer even retweeted her comment from the show two weeks ago, when she'd shared her opinion that Jacket Potato was Brian Conley.
And she added that tonight she "heard Shane Richie's voice"!
Now we're really confused!
When it came to the sing-off, Mr Potato sang The Pretenders hit Brass in Pocket.
And the judges chose to keep him in the competition, over Rubbish.
Rubbish was unmasked and revealed to be snooker champion Stephen Hendry.
So Jacket Potato goes on to sing again.
But will he be revealed as an EastEnders star or is he someone else entirely?!
We can't wait to find out!
The Masked Singer UK continues next Saturday. Check our TV Guide for more information.
Get the latest updates, reviews and unmissable series to watch and more!
Kerry is a writer, author and editor with a lifelong love of the soaps, a passion for TV drama of all kinds, and an obsessive devotion to Strictly Come Dancing.
She was features editor of All About Soap magazine for more than a decade, covering every bit of excitement from all the UK soaps and the Aussies and still writes about all the juiciest gossip from the Street, the Square and the Dales whenever she can.
Kerry's also an author of historical fiction, and her two jobs collided when she got the chance to write two novels based on Emmerdale, and the Sugden, Tate and Dingle families, during WW2.
Thank you for signing up to Whattowatch. You will receive a verification email shortly.
There was a problem. Please refresh the page and try again.