The Sabrina The Teenage Witch cast have reunited – see what they look like now!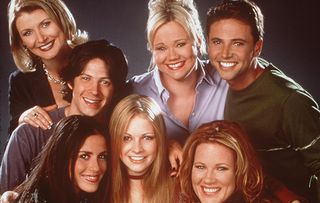 The mystical gang have got back together to mark the show's 15th anniversary
Sabrina The Teenage Witch levitated into our lives way back in 1996. Gosh, that makes us feel old! But since those days Melissa Joan Hart (who played Sabrina) and her talking cat Salam have held a special place in our hearts.
Now, as we await the show's modern day comeback on Netflix called The Chilling Adventures of Sabrina, the old cast have got back together to mark 15 years since the show ended in 2003.
And, wow, don't they look great?
Talking about the show coming back and reminiscing about their days on screen Melissa Joan Hart said: "Every actor wants to have that one role that's iconic, that speaks to people, that people relate to it.
"When fans come to us and say, 'We grew up with you', that is the biggest compliment we could ever receive for working hard all those years... It just makes us feel good that so many people enjoyed it and enjoyed our work and what more can you ask for?"
Nick Bakay, who voiced Salem, added that it "owned a generation of girls" with Caroline Rhea, who played Aunt Hilda, saying that the show's continued legacy is "sort of a miracle".
Beth Broderick, who played Aunt Zelda, reflected: "I still have young women come up to me and say, 'You were my childhood, you're like my second mom. I listened to your advice when I was 9 and you were right'."
And it seems it's not just the cast who get people coming up to them to share their memories of how Sabrina affected them.
"The girls who were 10 when they started watching are now in their 30s, and it's so much fun," explained creator Nell Scovell.
"Like, if I go to a meeting and someone meets me at the elevator and as we're walking to her boss' office she'll often lean in and say, 'Oh my god I loved Sabrina.' And that always makes me feel really happy."
https://www.youtube.com/watch?v=woyO65Ag4FY
The new spin off coming to Netflix is said to have a bit of a darker edge than the Sabrina we loved back in the 90s. But no doubt it's going to be fab!
What other shows from your teenage years would you like to see back on your screens? Tweet us @whatsontvuk
Get the What to Watch Newsletter
The latest updates, reviews and unmissable series to watch and more!