The Strictly Live tour helps champion Jay McGuiness cope with show's end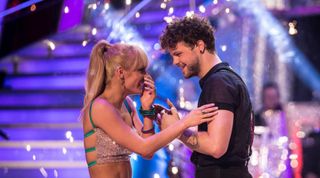 Strictly Come Dancing winner Jay McGuiness has said the show's live tour is helping him cope with his time on the series coming to an end.
The Wanted singer won the glitzy contest with his professional dance partner Aliona Vilani who has announced that she will not be back for the next series of the BBC show.
Jay, who has kept in close contact with his co-stars since the final, said winning came as a shock.
The Wanted singer won the show's 13th series (Kieron McCarron/BBC/PA)
"When we were stood there, and they were calling out the names and you know they do that thing when they make you wait for ages, I thought 'no chance, it's been a good run, and it was fun'. And so it was a bit like a ton of bricks hitting me when it happened. But yeah, I did it," he told the Press Association.
After the final, the 25-year-old spent Christmas with his family, but now he is back with some of his co-stars rehearsing for the Strictly live tour.
Jay, who was attending the Brit Awards nominations announcement, compared doing the tour with a smoker trying to quit smoking and using nicotine patches.
(Joe Giddens/PA)
"For me, it's like, hey don't worry, you've got the tour coming up, so that's helping me out," he said.
Talking about keeping in contact with his co-stars since the final, he said: "Well we had a group WhatsApp which was always on the go, and obviously Ali, she went to America. But like yeah, we'd text every day, and just keep each other informed of what was going on. So, yeah, when you meet people that you really got on with – you keep them in your life don't you?"
Asked about how much contact he has had with Aliona, he said: "I see her now for the past week because we've been rehearsing, and over Christmas all the contestants had a group chat, and obviously her family and my family all hung out, so yeah, now it's like we're all part of each other's lives."
(Guy Levy/BBC/PA)
The pair will be reunited on the dance floor for the Strictly tour which kicks off in Birmingham on January 22.
"When this tour is over and I'm no longer part of Strictly, the only thing I can do is become a big Strictly fan and I'm just going to watch every year from wherever I am," he said.
Get the latest updates, reviews and unmissable series to watch and more!
Thank you for signing up to Whattowatch. You will receive a verification email shortly.
There was a problem. Please refresh the page and try again.