The Twirlywoos: Meet the stars of new CBeebies show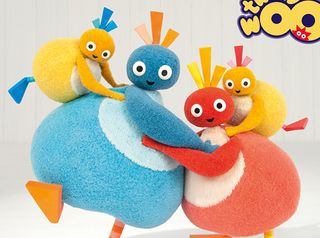 Great BigHoo, Toodloo, Chickedy and Chick may not be well known now but soon they will be familiar to young children across Britain.
The Twirlywoos are a family of bird-like creatures who leave their home - the Big Red Boat - to have adventures in the human world.
The show is the brainchild of Anne Wood, who devised success stories including Teletubbies and In The Night Garden, and Steve Roberts, who worked with her on Dipdap, another of Wood's Bafta-winning shows.
The former teacher seems to have a golden touch when it comes to children's television but she says nobody is guaranteed success.
It has taken four years to develop Twirlywoos into the show which will launch on the CBeebies channel later this month and Wood said she just hopes it will make children laugh and offers "a bit of education" too.
"The characters know less than the children do so that gives them a feeling of confidence in their own learning," she says of the young audience.
"Our greatest hope is that it will add to children's confidence in their own learning."
Twirlywoos is different from the other shows Wood has worked on as it uses stop-frame animation and its colourful characters have their adventures in the human world.
There's blue Great BigHoo, the cautious one, red Toodloo, the flamboyant one, and Chickedy, with a pink crest, and Chick, with a blue crest, who are inseparable friends and smaller than the others.
Wood said it is deliberate that they seem like a family but added that viewers will be told nothing more about their relationships. "It's for the children to project on to them," she said. "I know children do this, there's no point fighting against it."
Twenty-five episodes have already been made and another 25 are in production. Wood hopes to make 100 in total "then we stop".
Twirlywoos will be shown weekdays on CBeebies from Monday, 23 February.
Get the What to Watch Newsletter
The latest updates, reviews and unmissable series to watch and more!