The Victim - All you need to know about BBC1's new thriller!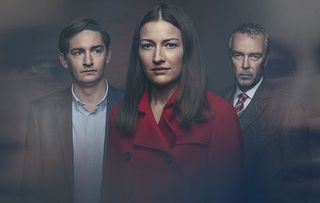 (Image credit: BBC/STV/Mark Mainz/Matthew Burle)
Stripped across the week, new crime thriller The Victim starring John Hannah and Kelly Macdonald looks set to get viewers hooked. It may even distract you from Line of Duty theories for five minutes...
If you like your crime dramas to keep you guessing right up to very last moment, The Victim might just become your next obsession.
It's the story of a mother, Anna, who has never recovered since her son's murder years before. The killer was only a child himself, and has therefore been afforded a fresh start with a new identity, leaving Anna livid and determined to hunt him down.
Then a few streets away a quiet bus driver, family man Craig, falls victim to a brutal vigilante attack, as the local community believes he's the man Anna is looking for. The attacker was incited by a social media post, and the police suspect it was Anna who put it online – what will the consequences be for such a rash decision?
"The story is all about the domino effect of this social media post on many people's lives," says Kelly Macdonald, who plays the grieving mother. "Anna has got absolutely no respect for the police, she lost faith in them and then she goes off on her own to try to find out who this man is, who killed her boy and served so little time.
"She's desperately attempting to make things right for her son, but she's not a goody two shoes and even though the most awful thing has happened to her she behaves in ways I find hard to sympathise with. There's a lot of drama and in a nutshell you're wondering who the victim actually is."
http://www.youtube.com/watch?v=Bl9AUDkRnbU
We'll all be on the edge of our seats as we try to work out where our loyalties should lie and how this taut, twisty drama will resolve itself. "It is thrilling, it's a bit of a whodunit and it's about the idea that life isn't black and white, it's full of these grey areas," says Kelly. "This is the darkest role I've had in my career, I probably need to do some comedy after this!"
For John Hannah, who plays investigating officer DI Grover in the series, the appeal of the show is its ability to avoid the cliches of many detective dramas that have come before. "There are a lot of crime dramas where the cops are at the centre of the story and their personality flaws are played up quite heavily," he reflects.
"We've all become used to those tropes of policemen with emotional baggage but I liked the fact that didn't apply to this character. The only thing we do find out about Grover personally is that he has previously been subject to what he says are false accusations, which is why he's moved to this police station."
Grover's up against it in this investigation. The officers he's working with remember working on Liam's murder case and are extremely reticent about bringing any charges against his mother, knowing the media storm that would ensue. For Grover, this kind of attitude simply represents irresponsible policing – the law is black and white, and Craig deserves answers after such a brutal attack.
"From his point of view the law is what it is and everyone has to abide by it. If Anna is responsible for inciting the attack and behaving out of the law he thinks that must be pursued regardless of the rights and wrongs of her position. Others around him are having a more understandable reaction to her scenario."
While the series is an exciting, character-driven legal mystery, it also has important points to make about the struggles our legal system is facing in a new digital age.
John says: "The Victim has a really original, different view on the crime thriller genre, it's quite complex in what it's asking the audience to think and it makes you question your own instincts. It continually shifts the ground beneath you, which can be unsettling.
"Anyone who reads the newspaper is aware of what's been going on and the way social media comes into the justice process now. There's more than one victim to any crime in some ways and individuals become lost, it's a bit of a minefield. It's interesting that this show deals with the idiosyncrasies of Scottish law, which hasn't been seen that much on TV before."
The Victim starts on Monday on BBC1 at 9pm.
Get the latest updates, reviews and unmissable series to watch and more!
Thank you for signing up to Whattowatch. You will receive a verification email shortly.
There was a problem. Please refresh the page and try again.