The Voice: Rita and Will's Knockout Rounds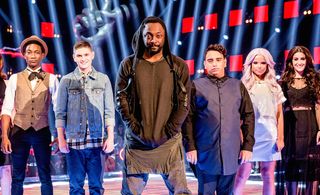 (Image credit: BBC PICTURES/WALL TO WALL)
It's Knockout Weekend and it all kicked off with Rita and Will having to whittle down their teams in a big way. After watching all the acts in their team perform the coaches had to choose which of their three acts they wanted to send through to the live quarter-finals which meant they each had to send five acts home. There were some tough decisions to be made, but it was just the coaches making the decisions because the acts got to choose the song that would take them through to the next stage…
First up, it was the turn of Rita to see her eight acts perform. The first performance of the night was from the sassy London-based DTwinz with Chaka Khan's I'm Every Woman. Next, Joe Woolford from North Wales sang Hey Ya by OutKast, giving it a slowed-down acoustic twist.
Joe was one of four acts in Rita's teams who are from Wales. The youngest member of the team, 16-year-old Karis Thomas from South Wales almost made Rita cry with her version of Cyndi Lauper's True Colours, while Shellyann from Swansea sang a powerful version of Firework by Katy Perry. The last of the Welsh contingency was Liss Jones, 24, who sang If I Could Take Back Time by Cher
Like Joe, Mitch Miller, another act from London, gave his choice of song a twist, too. There was a definite swing vibe to his rendition of the 1980s classic You Spin Me Round (Like A Record) by Dead Or Alive. Hannah Wildes, also from London, started her version of Dreams by Fleetwood Mac in a spooky style but things soon picked up causing Will's ears to prick up! She was followed by Clark Carmody from Worcestershire who sang Take Me To The Church by Hozier. Things didn't seem to have gone well in rehearsals and we were left wondering if he would be able to pull it out of the bag on stage, After he performed he thought he had mucked up his chances but he was in for a surprise
With all the performances out of the way, Rita faced the difficult task of deciding who to take through to the live quarter-finals. She chose to keep Joe, Karis and… Clark! Rita admitted it wasn't his best performance but judged it on his previous appearances.
Next up, it was the turn of Will to see his eight acts perform.
Londoner Newtion Matthews, 30, kicked off with Missing by Everything But The Girl and was followed by 19-year-old Jake Shakeshaft from Stoke-on-Trent with As Long As You Love Me by Justin Bieber.
Then came the girls with London-based Esmee Denters, 26, singing As by Stevie Wonder, and Essex girl Brooklyn, 19, singing, but mostly rapping, Let It Go from the kids' animation Frozen.
Will stole Vikesh Champaneri from Ricky's team in the Battle Rounds but would he make of the 19-year-old's performance of It's A Man's, Man's, Man's World by James Brown?
Sheena McHugh from Leicester followed with Bring Me To Life by Evanescence. In rehearsals the 26 year old told Will she was saving some of her best notes for her performance and she didn't disappoint!
http://www.youtube.com/watch?v=kYN_KrHkll0
Ryan Green's had a bit of a rocky journey on the The Voice. The 18 year old from Essex didn't even make it past the Blind Auditions last year, but thanks to Rita he made it through to the Battle Rounds, only for her to drop him from her team. Luckily, Will stole him but would his version of Frank Ocean's Thinkin' Bout You take him further?
Last up, was theatre usher Lucy O'Byrne, who stood out of the crowd with her classical choice of song. Well, it is her forte! The 23 year old from Dublin performed Un Bel Di Vedremo from Madame Butterfly but would her operatics earn her a place in the live shows?
After a discussion about how Rita says the word "hot", it was time for Will to choose his final three. In the end he chose Lucy, Sheena and Vikesh.
Get the latest updates, reviews and unmissable series to watch and more!
Thank you for signing up to Whattowatch. You will receive a verification email shortly.
There was a problem. Please refresh the page and try again.