The Voice UK kicks off as new coaches pitch into fierce battles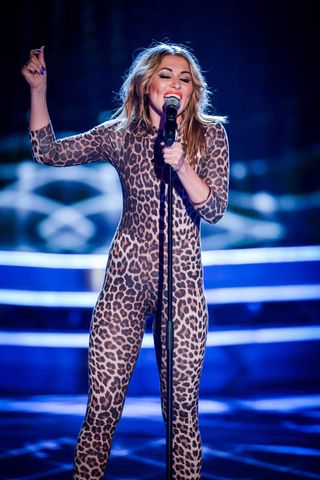 (Image credit: BBC / Wall to Wall)
The fifth season of The Voice kicked off tonight with new coaches Paloma Faith and Boy George joining show veterans Will.i.am and Ricky Wilson on stage for a friendly mash-up of James Brown's Sex Machine (a nod to Sir Tom, too, perhaps?) and Led Zeppelin's Whole Lotta Love.
But that was pretty much where the pleasantries ended as the first round of the blind auditions brought out the competitive spirit - big time. 
There was certainly no wasting time for Boy George who, on the very first pitch for lip-snarling Beth Morris, cut down compliments about Paloma's dress sense with "I've been wearing things like that since before she was born. She's my child; Lady Ga Ga's the other one."
It didn't help his case, though, as The Nutbush City Limits singer planted her animal-print onesie and mismatched shoes firmly into Paloma's team.
The scene was set for a string of rejections for Boy George, who was visibly shocked when 23-year-old Brooklynne Richards cast him aside in favour of old blue-eyes himself, Ricky Wilson. This despite Will.i.am and Paloma both urging the Brummie singer, whose skin-tight, spray-on leggings were surely an homage to Olivia Newton-John, to choose Boy George. 
"You do get offended when they don't choose you," admitted the Karma Chameleon singer, who's sold more than 100 million singles and 50 million albums. 
There were the inevitable disappointed Voice hopefuls, including a real vicar, the Rev John Barron, and comedy and light-entertainment legend Bernie Clifton. The latter wowed the audience with his rendition of The Impossible Dream, earning a standing ovation. But he failed to impress the coaches. Nonetheless, he said he'd "had the time of my life" and at least Oswald the Ostrich got an outing.
Despite his earlier setbacks, Boy George had the last laugh when 17-year-old Lancastrian Cody Frost, who performed a mesmerising performance of Abba's Lay All Your Love on Me, chose to be in his team after some fierce sparring with Paloma and Ricky. As BG said himself: "I'm the Pitch Bitch!".
Catch the second round of blind auditions on The Voice UK next Saturday on BBC1
Get the latest updates, reviews and unmissable series to watch and more!
Thank you for signing up to Whattowatch. You will receive a verification email shortly.
There was a problem. Please refresh the page and try again.