The X Factor auditions get very emotional as two acts reduce the judges to tears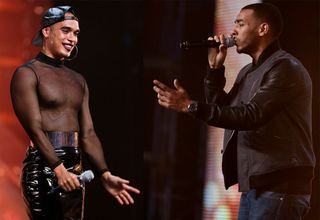 The X Factor auditions (opens in new tab) continued over the Bank Holiday weekend and became a tearful event as two acts had the judges in tears…
Car mechanic Josh Daniel, from Teeside, told the judges he was dedicating his performance of Labrinth's Jealous to his best friend, who died two years ago.
It clearly moved Simon Cowell (opens in new tab), whose mother, Julie, died in July, during the auditions process. Biting his lip and clearly struggling with his emotions at the end of Josh's song, Simon couldn't speak.
Cheryl Fernandez-Versini (opens in new tab) could - but she sobbed her way through her verdict.
"Wow! That was the most captivated I've been so far," Cheryl told Josh. "You really touched me. I believed every word you sang. I kind of want to hug you."
And then she did, before telling Josh: "It's a very emotional yes."
"That really got me right in the heart," added Nick Grimshaw (opens in new tab).
Rita Ora (opens in new tab) wasn't present for Josh's performance, but she had her own tearful moment with Sean Miley-Moore's performance of Queen's The Show Must Go On.
All the judges were on their feet for Sean, 24, who has moved to London from Australia.
Dressed in a PVC skirt, see-through top, cap, big hoop earrings and sky-high platform shoes, Sean told the judges: "It's important to express yourself through fashion and music. I get a mixture of reactions in Australia. People are more accepting in Britain."
And the Wembley audience definitely accepted him, roaring their appreciation of his performance.
Sean was in tears at the end - and so was Rita.
"You have so much passion and so much determination and so much individuality," Rita told Sean. "There's nothing I can say except I'm so happy you came on this show."
The Rita said to Simon: "Sean is literally my favourite. Can I please mentor the boys!"
"You're hands-down the best thing I've seen," Nick said to Sean. "You're the person everyone's going to be talking about."
"I couldn't take my eyes off you and I didn't want to," added Cheryl.
"I wasn't expecting that," Simon said. "I always wanted to find an artist on this show that you can't compare to anyone else and, most importantly, somebody you're going to remember. And I'm going to remember this audition for a very, very long time. I think you're great."
Simon didn't think he was going to like 21-year-old Essex market trader Chloe Paige's performance of Katy B's Crying For No Reason, but he did.
"I thought you'd be squeaky and annoying and out came that voice. You're really, really good," he told her.
Boy band The First Kings came prepared to put on the best show they could… They had their own intro video and their own dancers.
"I've never seen an auction like that on this show in my life," Simon told them.
"When me and my girlfriends see something special, we go: 'Mash it up, mash it up, mash it up, boom!'," Rita told the group. "That, for me, mashed it up!"
Check out our picture special of all the acts going to Boot Camp so far. Click here (opens in new tab).
The X Factor auditions continue on ITV, Saturday, September 5, 8.15pm.
Get the latest updates, reviews and unmissable series to watch and more!
Thank you for signing up to Whattowatch. You will receive a verification email shortly.
There was a problem. Please refresh the page and try again.