The X Factor: chip shop worker sets auditions alight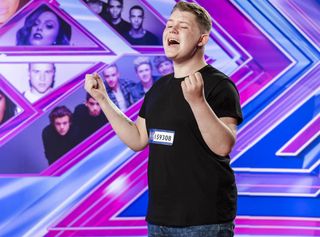 X Factor judges Simon Cowell, Cheryl, Mel B and Louis Walsh didn't expect much from 16-year-old Michael Rice when he stood in front of them at the fourth-round auditions.
"What do you do?" Simon (opens in new tab) asked Michael.
"I work in a chippy. I wash the potatoes and fry them. When I finish my shift I stink of fish. I don't want to be a chip boy all my life," he said.
"OK, you're out of the fish and chip shop and here's your chance. What are you going to sing?" Simon said.
"I Look To You by Whitney Houston," Michael answered, softly.
"Are you really?" said Simon, unable to hide his surprise.
"Are you? Wow! Good luck," added Cheryl (opens in new tab). Then Michael started singing and Cheryl's jaw hit the floor.
"Wow, I wasn't expecting that," Simon said at the end.
"I wasn't expecting that at all," said Louis (opens in new tab). "You walked in and said you worked in a fish and chip shop and then you turned into Whitney! You're really good."
"Wow! You've got some power in there, haven't you?" Cheryl said. "You're like a little diva. I think you're a really fantastic singer."
"Smashed it!" said Mel (opens in new tab). "You've got the range to kill any of the big ballads."
So Michael was through to the next round. So was fitness instructor Kayleigh Manners, 23, who comes from Mel B's old neighbourhood, High Hills in Leeds.
Kayleigh was nervous and told the judges, "I sing better in my room". But they were impressed.
"I think you have a really good quality to your voice," Mel told her.
Mel wasn't sure about Jake Quickenden's performance of All of Me by John Legend.
"Sing the song like you mean it," she told him. "Have you ever been through a heartbreak?"
"My little brother died last year," Jake answered.
"I'm really sorry to hear that," Mel told him. "So you do know hard times. Use that when you sing," Mel told him. "Sing for your brother."
He tried again with Say Something by A Great Big World and the judges loved it.
"To have criticism and come back with another song and fight for it is really admirable," said Cheryl.
Really? That's not what Cheryl said to singer Raign, who also got a second go.
Click here (opens in new tab) for that story.
And click here (opens in new tab) for our picture special on the fourth round auditions.
The X Factor (opens in new tab) continues on ITV, Saturday, September 13, 8.00pm.
Get the latest updates, reviews and unmissable series to watch and more!
Thank you for signing up to Whattowatch. You will receive a verification email shortly.
There was a problem. Please refresh the page and try again.