Think you've seen the Irish cast in Redwater before? Here's where!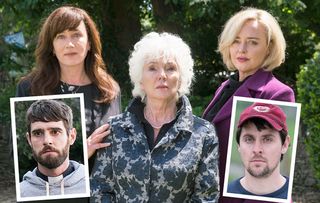 We're loving all the dramas in Kat & Alfie: Redwater, but the BBC1 drama isn't just about the Moons. Here's our lowdown on the main Irish cast members and where you might have seen them before in TV and films…
There are plenty of local characters in Redwater keeping us very intrigued in the drama, from killer priest Dermott, to sisters Roisin and Eileen, married couple Bernie and Andrew and the now widowed matriarch Agnes. If you think you recognise the faces, here's much more on the actors who play them…
Maria Doyle Kennedy plays Roisin Kelly
Remember that awful time for Mr Bates in Downton Abbey when his deranged ex wife Vera returned to blackmail him about his past, then mysteriously died? It was Maria who played Vera Bates in those tense episodes. She's also starred as another miserable character in historical drama The Tudors as Henry VIII's first wife Katherine of Aragon. But Maria is well known in comedy too, particularly as Patsy in Father Ted, and she also starred alongside her Redwater co-star Angeline Ball (see below) in the hit 1991 comedy music film The Commitments.
Fionnula Flanagan plays Agnes Byrne
The veteran actress has appeared many times on American shows, from Murder She Wrote to Star Trek spin-off The Next Generation, playing Data's mother. She also guest-starred in Lost as Eloise Hawking. In 1967, Fionnula rose to fame after playing Gerty McDowell in the 1967 film version of Ulysses and starred in 1996 film Some Mother's Son, alongside Helen Mirren.
Oisin Stack plays killer priest Father Dermott Dolan
The French/Irish actor starred in 2013 film The Family with Michelle Pfeiffer and Robert De Niro, a Russian production called Mata Hari and played Dr Bernard in a US TV remake of the classic horror Rosemary's Baby, which starred Zoe Soldana.
Angeline Ball plays Eileen Harrington
The 1991 Irish film The Commitments became a surprise hit around the world and Angeline starred in it as one of the Dublin soul band's backing singers, Imelda Quirke, alongside her current Redwater co-star Maria Doyle Kennedy. Channel 4 viewers might remember Angeline as Gloria Meak in Shameless from 2012 to 2013, while EastEnders fans should think back to 2008 when she played Maggie Townsend, the sex-mad boss of Bradley Branning who kept hitting on the poor lad.
Ian Toner plays Kieran Harrington
He probably has less credits behind him than other members of the cast, but Ian is best known as JJ Hopkins in the 2015 series An Klondike, the story of three Irish emigrants who travel from Montana to the Yukon during the Klondike gold rush of the 1890s in the hope of striking it rich.
Susan Ateh plays Bernie Kelly
The Irish-Cameroonian actress has had a number of screen roles including the films Inner Demons and In Bruges. Her TV work includes The Clinic, Holby City and Irish soap Fair City.
Peter Campion plays Andrew Kelly
Peter starred alongside Julie Walters in the smash hit Hollywood film Brooklyn. He's also starred in movies The Flag and Sing Street. Peter played Packy in the recent Channel 4 series London Irish, and starred in the Channel 5 series Love/Hate alongside Aiden Gillen and Robert Sheehan.
Kat and Alfie: Redwater continues every Thursday on BBC1 at 8pm
Get the latest updates, reviews and unmissable series to watch and more!
Thank you for signing up to Whattowatch. You will receive a verification email shortly.
There was a problem. Please refresh the page and try again.