Through the Keyhole goes to Hollywood in new series, reveals Keith Lemon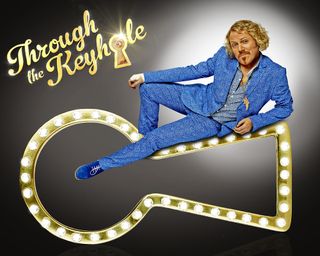 (Image credit: Joel Anderson)
Keith Lemon has revealed celebrities are no different from Joe Public when it comes to hoarding junk in their spare room, and admitted he would love to have a snoop round Simon Cowell's house.
The madcap TV presenter is back for a second series of ITV's Through The Keyhole, where he tours mystery homes belonging to the rich and famous, and asks an all-star panel to guess who they belong to.
But Keith admits he doesn't have access to every nook and cranny.
"There's always a door that's locked. Normally it's not because it's a sex den - it's usually a junk room," says Keith.
"And with a couple of the houses, the homeowners were still there. That was weird. One of our team would take them for a pub lunch and keep them there all day while we were filming in the house, because otherwise it's too difficult."
Celebrities who opened their doors to the cameras in series one included The Great British Bake Off's Mary Berry, X Factor judge Louis Walsh and Splash actress Daryl Hannah.
"I'm blowing my own trumpet, but I think this series is better than the last," says Keith. "We went to Los Angeles to do a few houses - they were really Hollywood-style houses."
But Keith is clear who his dream celebrity home would belong to.
"Simon Cowell's would be amazing. Our show comes on straight after The X Factor, so it would be great to do an X Factor Through The Keyhole special."
Through The Keyhole, ITV, Saturday, August 30, 9.25pm.
Get the What to Watch Newsletter
The latest updates, reviews and unmissable series to watch and more!