Toby Jones: I thought the Dad's Army film was a really bad idea – until I saw the script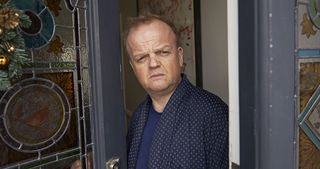 (Image credit: BBC/Kudos/Hal Shinnie)
He's a Bafta award winner, the darling of the critics, and, as the star of a string of blockbusters from Harry Potter to The Hunger Games, Toby Jones, 49, is quietly becoming one of Britain's greatest acting exports.
Toby hasn't neglected British television either. Last year's one-off BBC2 drama Marvellous brought more acclaim, and BBC Four sitcom Detectorists is, much like Toby, building a loyal and passionate following.
Also, over on BBC1, Toby can be seen as banker Roger Yount in the BBC1 adaptation of post-recession novel Capital (opens in new tab), which continues on Tuesday. He's also filming a filming a highly-anticipated adaptation of Joseph Conrad's novel The Secret Agent for the channel.
Your career seems to be going very well. Your CV is enviable!
"I've always felt uncomfortable saying my career's going well. It's clear I've been busy doing a lot of scripts I'm very proud of, like Marvellous, and I'm absolutely thrilled by that, but I suppose as an actor you have to be philosophical about it.
"I feel very fortunate, but you never have any control over the kind of roles that are around the corner."
Do you think TV is becoming a more inspiring platform for actors, as many major stars are taking small screen roles?
"The kind of films I like seeing in the cinema are just harder and harder to get off the ground, and like any actor you want to stay curious, you want to do different things and you have to earn a living. At the moment, TV allows you to do it all."
"There's also a revival of classic drama, re-exploring novels like The Secret Agent. It's hard to imagine that book being made as a movie at the moment. And also the quality of actors that I'm getting to work with in these projects, these are people you'd expect to see in films."
The temptation for any successful actor is to make a life in LA and be part of a blockbuster US TV series. You've had your fair share of American projects so where do you prefer working?
"At home. I've had experience of working there and it's very different. In Britain our good shows are very tight, they've been very well-edited and condensed, whereas I find those big American series sprawl a bit sometimes.
"They say it gives you a chance to explore character, but why tune in to episode 18 when there are so many red herrings?"
Tell us a bit about your latest project, a movie remake of the beloved British sitcom, Dad's Army...
"It's due out in cinemas in February of next year and the stellar cast includes Bill Nighy, Catherine Zeta Jones and Sarah Lancashire. I was initially extremely sceptical about signing up to play Captain Mainwaring (opens in new tab), the character made famous by Arthur Lowe.
"When I was told about the project I thought it was a really bad idea! I said to them, 'That's great, good luck with that!' Then I saw the script and for all my reticence and anxiety about remaking this show that I love, it just felt that the situations that been written were so charming, in a way that comedy doesn't seem to be any more.
"I also found the chance to work with these actors really irresistible and in the end it was only fear making me say 'no'. So I couldn't turn it down.'
Get the latest updates, reviews and unmissable series to watch and more!
Thank you for signing up to Whattowatch. You will receive a verification email shortly.
There was a problem. Please refresh the page and try again.