Toby Jones: 'I've signed my life away to Sherlock!'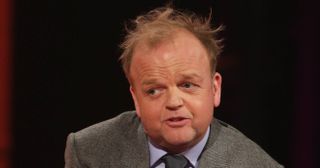 (Image credit: PA Wire/Press Association Images)
Toby Jones talks about playing a villain in Sherlock, starring as a Russian spy in The Secret Agent and, of course, Harry Potter...
What's on TV caught up with Toby Jones to chat about his new BBC period drama The Secret Agent, based on Joseph Conrad's dark novel set in London in 1886.
Naturally talk turned to Harry Potter and his upcoming role as a baddie in Sherlock…
Tell us about your new three-part drama The Secret Agent… "Vicky McClure and I play husband and wife, Adolf and Winnie Verloc, it's a strange household – Winnie's mother and brother Stevie live with them, but she treats her brother like a son because of his needs. It's like Verloc is a lodger. At the end of the first episode you see the strange harmony of this hybrid family beginning to fall apart."
It doesn't help that Verloc's a secret agent working for the Russian Embassy and they blackmail him into planting a bomb! "It's a dark story and the characters are enmeshed in a hellish matrix. They're all compromised and everyone's tarnished by the political situation. It's not a chocolate box period. My job is to emphasise with Verloc and try and find a way for the audience not to completely loathe or detest him."
Are you big fan of the spy genre? "I suppose I'm a big fan; I always feel slightly nervous saying I'm a big fan of any genre because I get to meet people who are real, serious fans, of things like Dad's Army and Harry Potter!"
The Secret Agent cast is pretty amazing… "I've been so lucky with casts recently. Stephen Graham plays Inspector Heat – we worked together on Tinker Tailor Solider Spy. But I'd never worked with Vicky McClure before. They're both so good! In fact, the entire cast is incredible – both Stephen and I said Ian Hart (who plays explosives expert, The Professor) is a hero of ours."
Do you ever get star-struck? "I'm not sure star-struck's the right word. I don't tend to get star-struck by actors because I've been lucky to work with people who are major stars and, once you rehearse with them, you realise we're all the same, it's just dressed up as mattering more when someone's a big star. It's more that I'm very respectful of them and hope in a good way I can compete with them. I am more star-struck by sportspeople and musicians."
Next you're playing a villain in BBC's Sherlock. Have you been surprised by the interest in that? "Yeah, I'm amazed at it, because I'm so naive. I remember when I did Harry Potter (Toby played the voice of house elf, Dobby), I didn't have kids then, but my friends with kids nearly fainted because every parent in the country has played that part!"
What can you tell us about your character in Sherlock? "It's an absolutely fantastic part and great to be working with Benedict (Cumberbatch) again. Mark Gatiss contacted me and said, We've written this part with you in mind and would love you to do it. Then I had the excitement of waiting on the script to come – and it is a very good villain!"
Is he a villain who's already known? "I believe so… I'm skirting around because I've signed my life away to this show. I'm not allowed to say anything!"
The Secret Agent begins on BBC on Sunday, July 17 at 9pm
Get the latest updates, reviews and unmissable series to watch and more!
Thank you for signing up to Whattowatch. You will receive a verification email shortly.
There was a problem. Please refresh the page and try again.