Tom Hardy: 'I don't feel very manly in real life'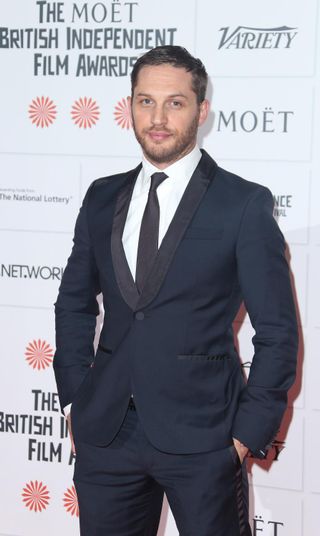 Hard man actor Tom Hardy has admitted he doesn't feel 'very manly' in real life.
The Dark Knight Rises star revealed that despite his muscled body and action movie career he has insecurities like everyone else and that he tries to 'mimic' being a tough guy rather than actually being one.
He told Esquire magazine: "I have always been frightened with men to the point where I couldn't go into a gym because of the testosterone and I felt weak."
Tom - who bared his chest on the front cover of the mag - went on: "I don't feel very manly.
"I don't feel rugged and strong and capable in real life, not how I imagine a man ought to be. So I seek it, to mimic it and maybe understand it, or maybe to draw it into my own reality. People who are scary, they terrify me, but I can imitate them.
"I'm not a fighter. I'm a petite little bourgeois boy from London. I don't fight, I mimic."
The 36-year-old also explained his secret when it comes to his movies, saying there are two types of acting - 'convincing and not convincing'.
"If you are going to convince people, then put it in the real world," he said. "Can you get your passport back? If you needed to get your passport back to get out of a country that you were in danger in, can you do that? Because you will need that skill. And that's how your character is going to need to be convincing."
This Means War star Tom then considers whether he can 'hustle' and if he looks the part.
He said: "No 1: Can you hustle? In the real world, have you got the asset to get whatever it is that you need by any means necessary without putting your hands on somebody? No 2: camouflage. Can you dress yourself up to look like somebody that you're not? Can you speak another language? Can you do the hustle but in different languages? That's it."
Tom's upcoming films include drama thriller Child 44 and Mad Max: Fury Road.
Get the latest updates, reviews and unmissable series to watch and more!
Thank you for signing up to Whattowatch. You will receive a verification email shortly.
There was a problem. Please refresh the page and try again.